Gold Prices Rally from $25 Plunge as NY Manufacturing Sees Worst Drop on Record
Monday, 6/17/2019 15:02
GOLD PRICES recovered $10 of a $25 fall from last week's multi-month highs Monday morning after manufacturing data from New York State showed its worst drop in at least 18 years, writes Atsuko Whitehouse at BullionVault.
Ahead of the Federal Reserve meeting to set US interest rates tomorrow and Wednesday, speculative betting on gold prices using Comex derivatives last week reached the most bullish in 14.5 months.
Stock markets were mixed meantime Monday, with India's Sensex falling hard but Hong Kong's Hang Seng Index adding 0.4% after an estimated 2 million people shut down the city centre yet again yesterday in protest at the Chinese territory's proposed Extradition Bill, now suspended by leader Carrie Lam.
Sinking from last month's 17.8 to minus 8.6, the New York Fed's Empire State index
turned negative for the first time
since just before Donald Trump won the 2016 presidential election.
Gold prices dropped to $1333 overnight, down almost 1.9% from
Friday's 14-month high
of $1358 per ounce, before pushing back up to last week's finish at $1342 as New York trading began.
Hedge funds and other 'Managed Money' traders last week increased their bullish positions in Comex gold futures and options, net of that group's bearish bets, to the highest since late-March 2018 according to
data from US regulator the CFTC
.
Rising for the 3rd week running, the net speculative long position rose by one-third to the notional equivalent of 487 tonnes.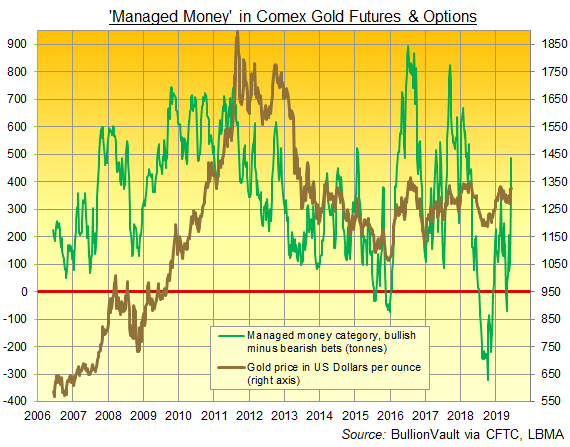 "We expect the Fed to cut rates by 25 basis points in July, and again in December barring positive data surprises," reckons Standard Chartered analyst Suki Cooper.
On Sunday US Commerce Secretary Wilbur Ross said "the most that will come out" of the G-20 meeting in Osaka, Japan between Donald Trump and China's President Xi Jinping "might be an agreement to actively resume talks."
Secretary of State Michael Pompeo meantime blamed Iran again for the recent attacks on oil tankers near the key Strait of Hormuz, saying there's "no doubt" Iran was responsible.
"President Trump has done everything he can to avoid war.
We don't want war
," Pompeo added.
Oil price slipped more than 1% on Monday, erasing Friday's bounce, while a spokesperson for the Iranian Atomic Energy Organization said the country will breach internationally agreed curbs on its stock of low-enriched uranium
in 10 days' time
.
Among other precious metals, silver prices also edged higher to $14.89 per ounce after recovering Monday morning's early loss.
Platinum prices
continued to trade below $800 per ounce, falling another 1.2%.
Gold priced in both British Pounds and Euros meantime rallied with Dollar prices back to last week's finishes, the strongest since November 2012 and April 2017 respectively.