Gold Price Reverses $10 Dip as Yellen Calls Inflation 'A Plus for Society'
Monday, 6/07/2021 16:24
GOLD PRICES recovered an early dip on Monday, rallying from a $10 loss as financial traders and analysts said the market's focus is moving from last week's US jobs data to President Joe Biden's spending plans, comments on interest rates from his Treasury Secretary Janet Yellen, plus upcoming US inflation data, writes Atsuko Whitehouse at BullionVault.
The Dollar Index – a measure of the US currency's value versus its major peers – ticked up from the Friday's strong pullback after a second consecutive month of worse-than expected US jobs data.
Ten-year US Treasury yields – a benchmark rate for government as well as many finance and commercial borrowing costs – edged higher from 7-week lows today after Treasury Secretary Yellen said Biden's $4 trillion spending plans could lead to higher inflation and therefore interest rates.
"If we ended up with a slightly higher interest rate environment it would actually be a plus for society's point of view and the Fed's point of view," the former Federal Reserve Chair said on Sunday in an interview with Bloomberg News.
"We're seeing some inflation but I don't believe it's permanent," Yellen also said at a press conference Saturday after the G7 finance meeting in London, where policy makers reached a deal on a global minimum tax for some of the largest international companies.
The headline measure of consumer prices rose 4.2% in the 12 months through April. The numbers for May are due to be published on Thursday, with analysts' consensus forecast expecting 4.7%.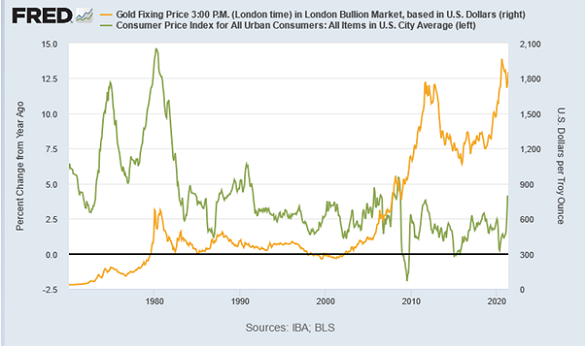 "We expect core US CPI to remain above 3% for the moment," said Daniel Hynes, senior commodity strategist at Australasian bank ANZ.
"This is likely to push up inflation expectations and allow gold prices to rally and our gold valuation model puts fair value at $2000 per ounce."
European stocks were slightly higher Monday lunchtime, as the pan-European Stoxx 600 index was up 0.1%, following mixed Asian markets amid China imports grew at their fastest pace in 10 years, while the trade surplus came smaller than the market expectations.
Gold prices for European investors edged lower by 0.2% to €1550 per ounce as Angela Merkel's Christian Democratic Union (CDU) fought off a challenge from the far right in a state election on Sunday.
UK gold prices in Pounds per ounce
also slipped by 0.4% to £1331 per ounce as the UK Government said it is "absolutely open" to delaying the June 21 unlocking amid the worsening outbreak of the so-called 'delta' variant of Covid.
Gold prices in China meantime continued to show a discount to London, easing to just under $20 per ounce on Monday after deepening to $25 per ounce last Friday, the biggest discount since early January.
Bernard Sin, regional director for Greater China at refining group MKS, said discounts rose to as much as $50, possibly due to newly imposed regulations, and deeper discounts could be seen going forward.
Gold dealers in India, the No.2 bullion consumer nation – still undergoing its worst wave of Covid to date – last week also offered the biggest discounts in nearly nine months as retail demand continued to remain muted due to coronavirus restrictions.
A
discount of up to $12 an ounce
was offered by gold dealers versus official prices, versus $10 discounts the previous week, according to news agency Reuters.