Gold Price Rallies After ECB Doubles 'Pandemic QE', 42 Million US Jobless in 11 Weeks
Thursday, 6/04/2020 14:37
GOLD PRICES rallied but failed to reverse all of this week's earlier losses in London trade Thursday as a new slug of "pandemic QE" from the European Central Bank and then US job-loss data both came in much larger than expected.
European equities and New York stock futures fell while Dollar gold prices rebounded to $1716 per ounce – steeply above yesterday's 3-week low of $1689 – after new figures said ongoing claims for US jobless benefits rose instead of falling last week, while initial claims slowed less than Wall Street analysts forecast.
The figures show 42 million people have lost their job in the United States since mid-March.
Gold priced in the Euro had earlier fallen back near yesterday's 2-month lows of €1505 as the single currency surged, along with Eurozone government bond prices, following a surprise addition to the European Central Bank's pandemic emergency purchase programme (PEPP).
"The ECB is
'ahead of the curve'
," claims the central bank's former vice-president Vitor Constâncio.
"The Euro is going up, periphery yields down."
It's now more than 6 years since the ECB first pushed its key interest rate below zero. Setting policy for 330 million citizens of the Eurozone, it has already bought €2.7 trillion of bonds and other assets under its existing quantitative easing schemes.
Inflation expectations have barely risen, even as central banks & governments come out with unprecedented rescue-financing packages. German inflation expectations over the next 5-10 years have remained below 1% even after the ECB's bigger-than-expected expansion of stimulus today pic.twitter.com/xw9KGJhx2c

— Lisa Abramowicz (@lisaabramowicz1) June 4, 2020
Today's ECB news saw the Euro extend its 2-week surge to reach the highest US Dollar rate since early March at $1.1270, helping take the gold price back down to €1514 before it jumped over €10 on the US jobs data.
The global financial crisis saw gold peak in Euro terms almost 12 months after its top in US Dollar and British Pound terms, beginning what proved a 40% drop shortly after then-ECB president Mario
Draghi vowed to do "whatever it takes"
to preserve the monetary union – widely seen as a promise of unlimited support for weaker member states if needed.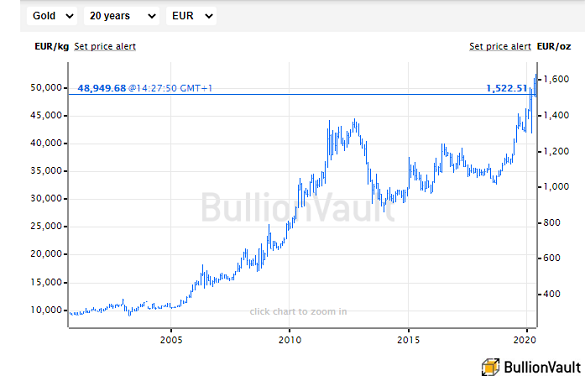 Germany's top court, the Constitutional Court in Karlsruhe, last month ruled that –
while it wasn't illegal
– the ECB's existing purchases of weaker Euro-member government debt hadn't been properly monitored by the country's politicians.
Today's rise in Euro bond prices pushed down borrowing costs for all of the Eurozone's 19 member states. But while heavily-indebted Italy and Greece saw their 10-year yields fall by 0.13 percentage points, Germany's 10-year Bund rate – already guaranteeing a loss to new buyers by yielding less than zero – slipped only 1 basis point to -0.36% per annum.
That crushed the
BTP-Bund spread
for comparable Italian vs. German yields – a market measure of the currency union's No.1 and No.3 economies' credit worthiness – down to 1.8 percentage points, its lowest since late March.
Looking at this week's action in gold prices meantime, "We have seen some exhaustion of long positioning," says one London market-making bank in a note.
"After a run to 100 million ounces in ETFs [now backed by a record 3,200 tonnes] the amount of money flow still willing and able to add gold to positions is smaller than ever before."
Civil unrest across the US following last week's police killing of unarmed African-American George Floyd has meantime led to some 9,300 arrests according to a tally from the Associated Press, including 3 men apparently part of the white supremacist 'boogaloo' movement
caught with molotov cocktails
amid a crowd of protesters in Las Vegas.
The white Minneapolis police officer who knelt on Floyd's neck is now charged with second-degree murder, and his 3 colleagues at the incident are now charged with aiding and abetting.