Gold Price Down 1% as Fed's Lacker Resigns Over 2012 QE Leak, ECB 'Talks Taper'
Wednesday, 4/05/2017 14:05
GOLD PRICES erased this week's earlier 1% gains to slip back below $1249 per ounce in London wholesale trade Wednesday as world stock markets edged higher and the US Dollar rose despite the shock resignation of Richmond Federal Reserve Bank President Jeffrey Lacker.
With the official non-farm payrolls estimate due Friday, new employment data from private-sector ADP Payrolls today said the US added 263,000 jobs in March, well ahead of Wall Street's 187,000 consensus forecast and extending the
2% per year growth
seen since the US jobs market bottomed in March 2010.
With gold prices losing over $13 from Tuesday's near 5-month high, silver followed gold lower, also retreating to last week's finish against the Dollar at $18.28 per ounce.
Platinum prices
in contrast held firmer, rising to a 1-week high of $970 before easing $5 per ounce.
Reputed as a 'hawk' on interest rates, Jeffrey Lacker twice dissented from all other policymakers during the Richmond Fed's last tenure on the FOMC, voting to raise from 0% in both September and October of 2015.
The so-called 'Medley case' – the first known leak of Fed information since 1988 – saw a hedge-fund advisory tell its clients on 3 October 2012
secret details of the previous month's Fed meeting
, one day before public minutes from that vote were due for disclosure.
"Due to the highly confidential and sensitive nature of this information," Lacker now says, "
I should have declined to comment
and perhaps have ended the phone call" in which he apparently revealed that – with the Fed's monthly money creation
raised to $85 billion per month
by QE3 – the central bank would resist extra stimulus either side of November's US presidential election, but would likely increase the pace of QE again in New Year 2013 as jobs growth slowed.
2013 in fact saw then-Fed chairman Ben Bernanke talk instead about "tapering" the Fed's monthly bond-buying QE, spurring the famous "taper tantrum" which whacked fixed-income, commodities and emerging market assets and saw
gold prices fall 25% in the second quarter
, their fastest loss in 3 decades.
QE tapering didn't begin until 2014, ending when the Fed's new monthly bond-buying reached zero 12 months later. It continues to re-invest the money from maturing bonds today.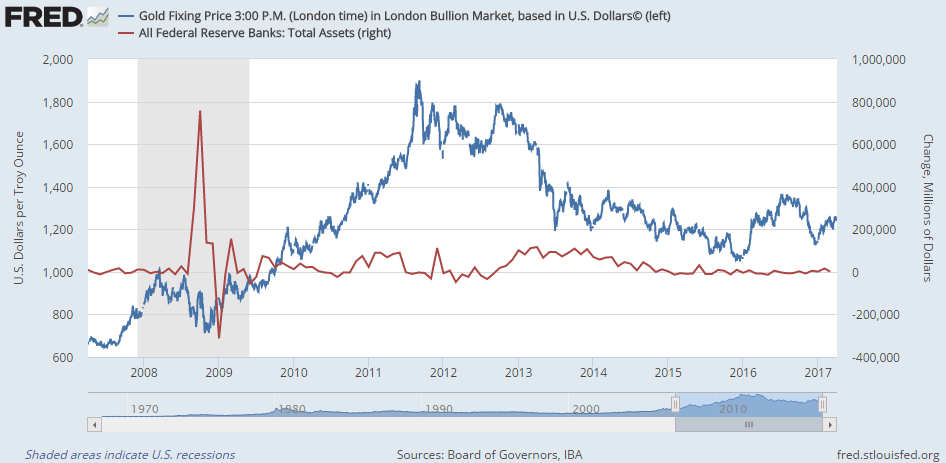 Already set to retire on 1 October, Lacker had "become [an] increasingly marginal figure...
one of the least influential
" according to Fed watcher Josh Zumbrun of the
Wall Street Journal
.
Retreating to £1000 per ounce in Sterling terms, gold prices today held just above last week's finish even as the Pound rallied against the Dollar.
But gold prices fell harder on Wednesday versus the Euro, erasing the week's previous 1.1% gain to trade at €1171 per ounce.
"The ECB is clearly preparing for exit talk and for tweaks to its forward guidance," reckons private-bank Berenberg's economist Florian Hense, quoted by Bloomberg ahead of tomorrow and Friday's speeches from 3 key policymakers at the European Central Bank, now creating €80bn of new money per month to buy Eurozone government bonds and other assets.
"Policy makers are not only answering questions about [QE tapering] but actually talking about it themselves."