UPDATE: Gold Price Jumps, Stocks Fall as US Fed Caves to Trump with Covid-19 Panic Cut
Tuesday, 3/03/2020 17:02
GOLD PRICES jumped against a falling US Dollar Tuesday afternoon in London after the widening coronavirus panic saw the Federal Reserve slash its key interest rate by half-a-percentage point in its first inter-meeting change since the global financial crisis.
Bullion rose $40 to $1640 per ounce – reversing all of
Friday's 'margin call' gold liquidation
– but the New York stock market fell, erasing an initial jump to show a 1.2% loss for the day on the S&P500 index.
Government bond prices meantime jumped with gold, pushing the rate of return offered to new buyers down to new record lows on 10-year and 30-year US debt at 1.03% and 1.62% per annum respectively.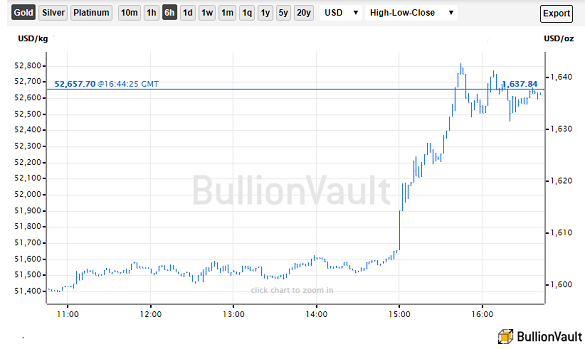 With US unemployment running at 3.6%, the lowest in half a century, and with 'core' PCE inflation at 1.6% per year – below the Fed's 2.0% target but in the middle of that measure's last 5 years' range – the US central bank today said "The fundamentals of the
US economy remain stron
g.
"However, the coronavirus poses evolving risks to economic activity."
"Coronavirus is wreaking havoc on the electronics industry," said one respondent to February's ISM purchasing managers index, reporting the 130th consecutive month of growth in US economic activity.
New orders and employment were contracting however, the ISM's survey found, while prices sharply reversed January's rise and the backlog of work increased.
"Coronavirus continues to be front and center as a major supply chain risk to our company," said another respondent.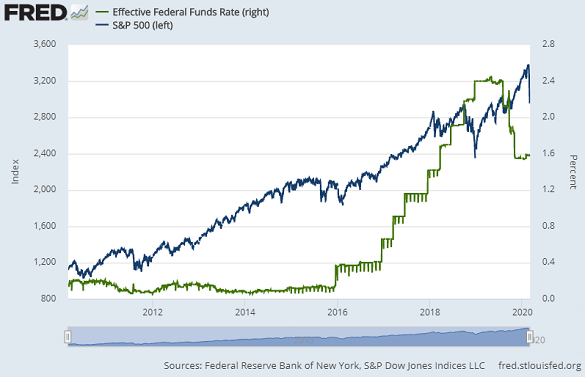 Wall Street stocks jumped 2.5% inside 4 minutes of the news, but then gave back half of that move to trade little changed from Monday's close.
After suffering its worst week since October 2008, yesterday saw the S&P500 index jump at its fastest 1-day pace since August 2011.
Last week's sell-off on Wall Street left the S&P500 index 10% higher from a year earlier, but 13% beneath mid-February's fresh all-time record at a 5-month low.
Repeatedly badgered by President Trump for raising rates 8 times and then cutting them only 3 times during his White House tenure so far, the Fed today made its sharpest cut to borrowing costs since the 100-basis point cut made amid the worst phase of the global financial crisis, down to 0% in December 2008.
The Reserve Bank of Australia
earlier cut its key lending rate
to a new all-time low of 0.5%, saying that "The Board took this decision to support the economy as it responds to the global coronavirus outbreak."
Analysts expect Australia's 2019 GDP figures tomorrow to show 1.9% annual growth, the weakest since the global recession of 2009.
Silver prices
also jumped with gold Tuesday, recovering half of last week's steep loss for the more industrial precious metal, reaching what was a 15-month high last August at $17.29 per ounce.
Primarily used to cut harmful emissions from diesel engine systems in contrast, platinum held unchanged at $872, barely moved from this time last year.