Gold Price Near Record Euro and GBP Highs on Brexit Day as 'Investors Seek Safety' from Stocks, Weak GDP
Friday, 1/31/2020 14:29
GOLD PRICES recovered another overnight drop in London on Friday, heading for the highest weekly close in US Dollar terms since March 2013 as a surprise fall in the economic output of major Euro members' France and Italy saw Western stock markets fall ahead of tonight's formal UK exit from the European Union.
With gold priced in the Dollar trading above $1580 per ounce, the metal's price in British Pounds traded above £1200 – a
new all-time high in August
when reached after pro-Brexit campaigner Boris Johnson became Prime Minister – and held above €1430 for German, French, Italian and Spanish investors, less than 1% below early January's fresh record.
The UK today became the 18th country to
confirm cases of coronavirus
, named a "global health emergency" by the World Health Organization and killing more than 200 people so far in China.
With the Brexit 'transition' period set to begin at 11pm GMT, London's FTSE100 index of mostly global corporations lost 0.6%, while the CAC40 in Paris also hit 7-week lows and the FTSE-MIB index of Italian shares retreated almost 2.5% from Wednesday's 18-month high.
Government bond prices rose in contrast with gold, pushing down the rate of interest offered to new buyers as industrial metal copper extended its 12.2% plunge of the last 2 weeks –
starting as the first cases
of coronavirus were confirmed outside China – and crude oil struggled to rally from the lowest prices since early October.
Ten-year US Treasury bond yields today fell near 4-month lows at 1.55% while German Bund yields also fell towards early October levels, dropping beneath minus 0.40%.
Over the last decade, Dollar gold prices have moved in the opposite direction to 10-year US Treasury yields almost two-thirds of the time on a 52-week basis.
That reading of 64.2% has risen to 71.1% since the end of January last year.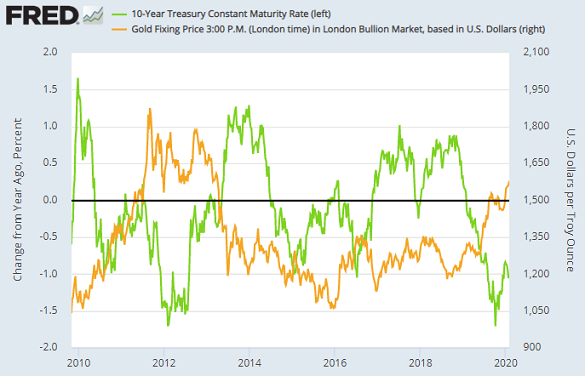 "A slide in government bond yields and a rise in gold prices are further signs of investors'
sharpened appetite for safe assets
," says the
Financial Times
, noting a jump in demand for 'insurance' bets on volatility in US stock markets.
"The upcoming US presidential election has also prompted some investors to buy insurance against market declines," the FT goes on, and "many negative factors...are screaming for a big stock sell-off," it quotes one analyst.
After US economic growth was reported at 2.1% for 2019 on Thursday – right in line with analyst expectations – France and Italy both showed a fourth-quarter contraction today, dragging down the outlook for overall economic growth in the 19-nation Euro currency bloc.
Picking apart the US data, "The biggest contributor to growth was 1.5 percentage points from net exports," Bloomberg notes, "almost all of which came from the biggest slump in imports seen since the Great Recession of 2009."
Platinum prices
also erased the last of their New Year gain in Dollar terms, falling beneath $960 and retreating 7.9% from mid-January's 3-year high.
Sister-metal palladium has fallen harder still, losing nearly $240 per ounce from this month's new all-time record of $2530.