Gold Price $2,000 Forecast as Fed Swears Off Fighting Inflation
Wednesday, 1/15/2020 12:45
GOLD PRICES rallied from 2-week lows against the US Dollar in London trade Wednesday, edging back above $1550 per ounce as world stock markets struggled for a second day after setting yet another all-time record high on the MSCI index.
Major government bond prices rose, pulling longer-term interest rates lower, while crude oil rallied off 3-week lows.
After US consumer-price inflation, excluding volatile fuel and food, yesterday came in at 2.3% per year for 2019 as a whole – unchanged from the pace in 2018 – the UK's official inflation rate today showed a slowdown to 1.8%, while France's slipped to 1.5% and Spain's sank to 0.8% annually.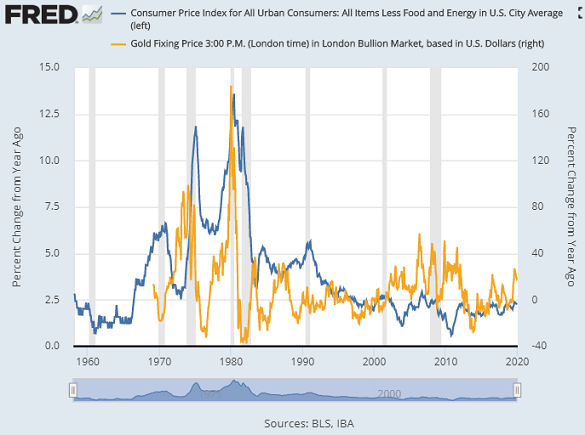 Source: St.Louis Fed
Germany reports its end-2019 inflation rate tomorrow, after saying today that GDP in the Eurozone's largest economy grew just 0.6% last year in real terms.
World No.2 economy China – which saw inflation hit 7-year highs across 2019 thanks to swine fever driving pork prices higher – will report its official GDP estimate on Friday.
"There will no longer be an attempt by any of the developed world's major central banks to normalise interest rates," today's Financial Times quotes Greg Jensen, co-chief investment officer of $160bn hedge fund Bridgewater.
For gold prices, "That's a big deal," Jensen says, forecasting a rise to $2,000 per ounce and advising investors to make bullion a 'cornerstone' of their portfolios because with geopolitical risks rising – and the last decade's boom in US asset prices now likely to fade – "the Fed won't be pre-emptive" in trying to stem rising inflation.
That would cut the real rate of interest, seen as a prime mover for underlying gold prices.
Cutting US Dollar interest rates 3 times in 2019 despite inflation in the cost of living holding firm, Fed chairman Jerome Powell said last month that "In order to move rates up, I would want to see inflation that's persistent and significant."
With gold prices already setting 7-year US Dollar highs this January, plus new all-time record highs in a raft of other currencies, "[Miner] producer selling might help rein in the rally in the near term," said a note last week from Swiss bullion bank UBS, "but we do not expect it to derail the broader uptrend especially if macro factors" – such as negative real rates, a weaker US Dollar and geopolitical tensions – "continue to move in gold's favor.
"On the flip side, softer data in the US – as our economists expect – would be a tailwind for gold."