Gold Miner Hedging Rising on Record Aussie Dollar Prices as US Trade Deficit Defies Trump, UK Prepares 'No Tariff' Brexit
Wednesday, 3/06/2019 14:31
GOLD MINING shares rallied as bullion prices held in a tight range in London trade Wednesday, outpacing a wider gain in world stock markets
Gold priced in US Dollars ticked around $1285 per ounce – a 6-month high when reached back at New Year – even as new data said the world's largest economy grew its trade deficit in 2018 to the widest in a decade, deteriorating "despite the [Trump] White House's protectionist trade policy,"
according to Fox Business
.
The US also added fewer jobs last month than analysts expected on the unofficial ADP Payrolls services provider's first estimate.
That data saw the Australian Dollar fall on the FX market, pushing the gold price in AUD back up to A$1830 per ounce, still 3.6% below this New Year's
"astonishing" spike
to fresh all-time highs.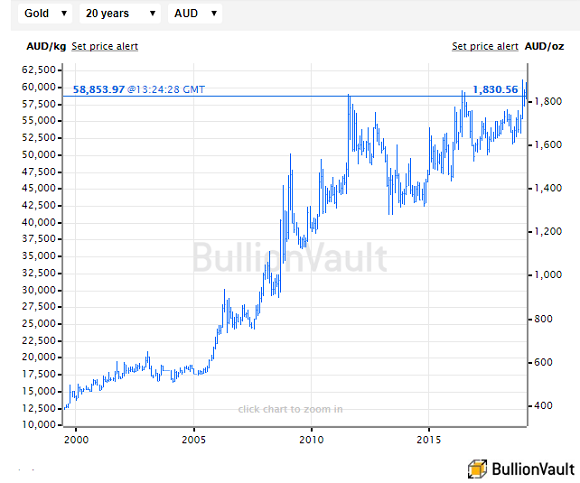 The No.2 gold-mining nation behind China, Australia produced a record 317 tonnes in 2018 according to Melbourne-based consultants Surbiton Associates, a rise of less than 1% from the previous year.
"It took 21 years to break the old calendar-year record," says Surbiton director Dr.Sandra Close, "and the outlook for the near term looks.
But with Australia's gold miners earning a near-record A$1700 per ounce on average over the December quarter of 2018, "around 31 tonnes of future production was hedged by ASX-listed gold producers," says Close.
Australian's largest gold-miner Newcrest (ASX: NCM) rose 2.8% in Sydney on Wednesday, rallying back towards late-Feb's 2.5-year highs, while Northern Star (ASX: NST) added 1.4%.
Shares in Evolution (ASX: EVN) – which in the last quarter of 2018 sold forwards more than 4 months' production for delivery between mid-2020 and 2023 – gained 1.8% but remained almost 15% beneath end-January's new all-time high.
On top of that, Close adds, these high gold prices will have inticed foreign-based producers to sell forward some future production and lock in current levels.
"Many people used to regard hedging as 'speculation' when in fact it is precisely the opposite –
it is risk reduction
."
On the demand side, "
Central-bank [gold] buying
has been very strong," says London bullion market-making bank Standard Chartered's Suki Cooper, "and the ETFs have been more resilient...even with outflows over the course of February and so far in March.
"The upside continues to be determined by investor interest and the macro back-drop," says Cooper, saying that in the back-half 2019 she expects the US Dollar to weaken as financial markets start thinking about "even pricing in a cut" to Federal Reserve interest rates.
Euro gold prices held near 6-week lows on Wednesday at €1136, and the UK gold price in Pounds per ounce also held below last Friday's finish – a 13-week closing low at £979 – even as Sterling slipped with barely 3 weeks to go until Brexit.
"To get a robust trade arrangement, that lifts all boats, it
has to include farming and farm products
," said US Ambassador to London Woody Johnson to the BBC today, saying that UK media concerns over hygiene standards such as chlorinating chicken to kill disease "are designed to reduce not increase trade" and claiming –
incorrectly
– that US food poisoning rates are below those in Britaim
If the UK Parliament fails to back Prime Minister Theresa May's exit deal with the European Union next week, her Government will unilaterally cut 80-90% of all tariffs imposed on goods imported into Britain,
Sky News reports
, citing "Whitehall sources" and calling it "a bombshell for many manufacturers and farmers in the UK."