Gold Market Sells Off Again as Interest Rates Rise Despite ECB 'Smothering' Euro Bond Yields
Wednesday, 10/07/2020 13:48
Wholesale GOLD MARKET prices hit 1-week lows against both the US Dollar and Euro on Wednesday, falling once more as Western stock markets also fell in the face of longer-term interest rates rising as bond markets sold off across European and the US.
With China's markets still shut for the National Week holidays, gold prices fell 2.5% overnight from a test of $1920 per ounce, an all-time record – set in 2011 – until this summer's top at $2075.
With 10-year US Treasury yields rising to the highest in 4 months at 0.78% per annum,
Euro gold prices
also fell hard, dipping through the €1600 level punctured only twice during August-September's new record top, as 10-year German Bund yields rose to 3-week highs at -0.41%.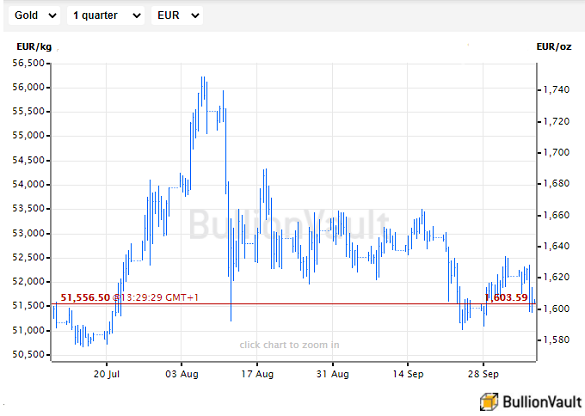 Across the 19-nation Eurozone, only debt from Greece and Italy held firm this morning, with Rome's 10-year bond yields trading near last September's all-time record lows at -0.57% per annum.
Amid the region's second wave of Covid-19, "It's Spain, not Italy, that has European investors worried," says a story at Bloomberg, noting that US financial giant Citigroup has "recommended selling Spanish bonds...citing growing fiscal worries, renewed separatist tensions in the region of Catalonia, and the prospect of a credit downgrade" by ratings agency S&P.
The European Central Bank has retained and improved its independence from governmental pressure
claims a new paper from ECB researchers
, contrasting this "shielding" from "political interference" with the US Fed, the Bank of Japan, and the People's Bank of China among many others.
But
the ECB now "smothers"
the Eurozone government bond market, the
Wall Street Journal
reported last month, because its purchases of sovereign debt from the 19-nation currency union's members so far this year "have dwarfed new issuance, even as governments spend heavily on coronavirus relief."
"This allows governments to easily finance the huge expansions to fiscal spending," the WSJ quoted strategist Rohan Khanna at Swiss bank UBS.
Consultants Yardeni Research say the
ECB is now second only to the Bank of Japan
in the size of its asset holdings, led by government bonds, relative to its local GDP, rising from 40% to 53% so far in 2020 and overtaking Japan, China and the United States in cash terms.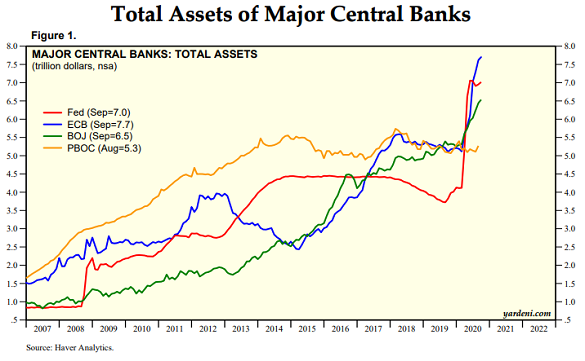 Back in the bullion market, giant
gold-backed ETF
the GLD shrank a little on Tuesday as investors liquidated shares in the trust fund overall.
Over the 8 weeks leading up to that peak, the GLD grew by 12.6% as gold prices rose from a dip below $1700.
Giant silver ETF the iShares' SLV trust has meantime seen net liquidation of 2.3% since the gray metal topped at 7-year highs just below $30 per ounce in early August.
Over the prior 8 weeks the SLV had expanded by more than one-fifth as
silver prices
rose from below $18 per ounce. The metal fell less and recovered better than gold in London's bullion market on Wednesday, holding unchanged for the week so far at $23.68 per ounce.
"Platinum keeps being sold at the $900 level," says a note from the precious-metals team at London bullion market-maker BNP Paribas.
"Whilst physical holdings in platinum ETFs are steady...open interest in [Nymex] platinum futures is decreasing and the position of Money Managers [as a group] has moved to net short.
"USD strength/weakness is driving short-term price moves."
Trading volumes in precious-metal derivatives contracts on the CME exchange all jumped yesterday from Monday's multi-month lows, with Comex gold and silver turnovers up 28% and 25% each, while Nymex platinum turnover leapt 78%.
Excluding March's Covid Crisis crash to the cheapest since 2002,
platinum prices today
held right in the middle of the last 5 years' range at $866 per ounce.
Gold priced in British Pounds meantime held little changed for the week so far at £1465 as Sterling slid on the FX market amid
more political wrangling
between London and Brussels over the UK's impending "no deal" exit from the European Union, more than 4 years after current Prime Minister Boris Johnson successfully campaigned for Brexit in the EU referendum.