Gold Market 'Set to Recover' But Google Search Interest Near 2007 Levels Ahead of Fed Rates Decision
Wednesday, 5/01/2019 14:17
GOLD MARKET prices in London wholesale trading held tight around $1280 per ounce on Wednesday ahead of the US Federal Reserve's decision on Dollar interest rates, widely expected to deliver no change from the current 11-year high of 2.50%.
The gold markets in both Tokyo and Shanghai were shut overnight for national holidays.
Betting on US Fed Fund futures now sees 71% chance that the US central bank will cut its key interest rate at or before its first meeting in 2020.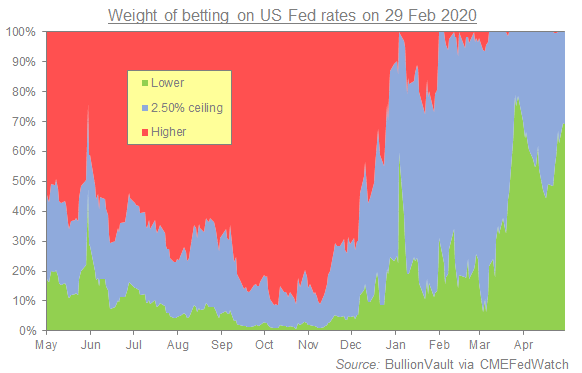 "Despite the market once again pricing in a rising probability of a Fed rate cut this year," say analysts at Asian-based London bullion market-maker Standard Chartered, "we continue to expect gold prices to consolidate lower," forecasting a Q2 average of $1285.
StanChart then sees
gold bullion prices
"recovering to average $1325 per ounce in the fourth quarter."
Falling to average $1286 in April, wholesale gold market prices averaged $1303 between January and March 2019, nearly matching the quarterly average in Q2 2018.
Wednesday meantime saw
China
, Hong Kong, Mexico, Brazil and Chile plus Germany,
France
, Italy and many other European stock exchanges shut for May Day.
India's NSE was also closed for the Mumbai region's Maharashtra Day, while Japan's equity markets remained shut for the
accession of Emperor Naruhito
and his new Reiwa imperial era.
Australian equities rose 0.8% for the day, approaching last week's new 12-year high, but major gold-mining stocks Evolution (ASX: EVN) and Northern Star (ASX: NST) both fell as Aussie Dollar bullion prices held 4.5% below
January's new all-time high
.
"Strong results from US companies have
lifted the S&P500 index
to a new all-time high," says a note from German-based refining group Heraeus, "and many [other] equity markets have had strong recoveries this year.
"As a result, gold has been getting less attention."
Internet searches from investors worldwide wanting to "buy gold" fell last month to their weakest volume since last summer's 11-year low.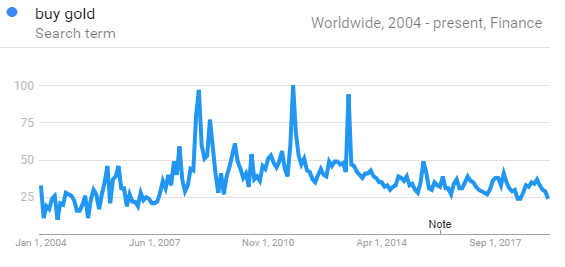 Gold-market prices in British Pounds per ounce today erased last week's 1.4% gain, trading back down to £980 as Sterling rose after weaker-than-expected consumer borrowing figures but a stronger reading on the Markit PMI index of UK manufacturing activity.
Ahead of Thursday's local UK elections – widely seen as a battleground for pro- and anti-Brexit politicians – the opposition Labour Party confirmed that its manifesto for this month's increasingly likely participation in European Union elections
will not call for a second or 'confirmatory' referendum
on Brexit.
Brent crude oil also fell back Wednesday, retreating to its lowest in 2 weeks beneath $72 per barrel, dropping over $3 from last week's 6-month highs.
US sanctions against countries buying oil from Iran – set to begin tomorrow – are forcing refiners in major Iranian oil importer India to
seek new, lower-quality supply
, and risk boosting both fuel prices and inflation said New Delhi's ambassador to Washington on Tuesday.
Back in London's wholesale gold bullion market, French investment bank Societe Generale (EPA: GLE) has meantime resigned as a market-maker Reuters reports, quoting trade body the LBMA.
That leaves 12 institutions promising to quote 2-way prices in bullion, unchanged in number from this time 5 years ago.
Extending the drop in wholesale gold today,
silver prices
fell to $14.81 per ounce, near April's drop to the lowest since Christmas.