Gold ETF Investors Buy the Dip in Prices After Bucking Q3 2019's Decline in Gold Demand
Wednesday, 11/06/2019 13:15
GOLD PRICES held onto yesterday's 1.3% plunge versus the rising US Dollar in London on Wednesday, trading down at $1486 per ounce as world stock markets rose again and major government bonds rallied from this week's sell-off so far.
With gold prices dropping yesterday through $1500 for the first time in 3 sessions, gold-backed ETF trust funds expanded, snapping the usual pattern as both the SPDR Gold Trust (NYSEArca: GLD) and the iShares gold ETF (NYSEArca: IAU) saw net investor inflows.
The GLD's last previous day of growth – now some 4 weeks ago – also came as gold prices fell, something that has happened only 15 times in 2019 so far.
Over the last decade, the GLD – today more than 2.5 times the size of the IAU, despite the smaller fund reaching fresh record assets last night – has seen net investment inflows on fewer than 1-in-6 days of falling gold prices.
"The [Q3] surge in ETF holdings offset falls elsewhere" in gold demand said the mining-industry's World Gold Council on a conference call today, presenting its
new Gold Demand Trends
data and comment on the July-to-September period.
As a group, gold-backed ETF funds now need a record quantity of gold bullion bars to support their shares, the WGC said.
But "we're still some way off the high in value terms."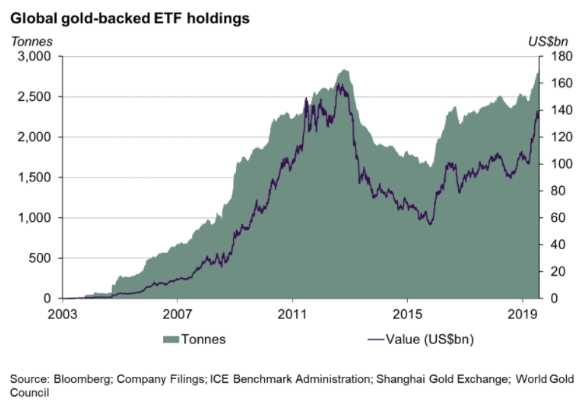 The
only segment of gold buying to rise
year-on-year in the third quarter of 2019, gold ETF investment is now more globally diverse than at the previous peak in assets, the WGC team noted on Wednesday's call.
Back at the prior 2012 record, 70-80% of that metal was held to back US-domiciled ETF products. Today that has fallen to just half, with 48% of
gold ETF investment
now coming from Europe.
"That makes for a greater degree of resilience" in ETF holdings overall, suggested market intelligence director Alistair Hewitt, "because those investors have different motivations and concerns."
For US investors, he went on, the outlook for Fed interest rates will top the list, while the UK remains dominated by Brexit and German investment fears are led by the risks to domestic industrial sales and growth by the US-China trade war.
Even so, the Q3 2019 surge in gold ETF inflows "was a US story", with 70% of net investment in exchange-traded gold-backed funds coming from North America as bond yields sank on a sudden shift in expectations to a series of new US Fed rate cuts.
"Bar and coin investors didn't react in the same way as ETFs," the WGC team said, and while this reflects a "picture of broader consumer uncertainty" – matched by a plunge in jewelry sales woerldwide – the Q3 collapse in retail investment demand also came amid heavy profit-taking by existing coin and bar owners thanks to the surge in prices.
"Lots of bar and coin investors buying the dip in Q3 2018 will have made a tidy return," noted Hewitt.
Back in Wednesday's action, premiums for gold bullion landed in China – the No.1 consumer nation – rose again as global prices fell, jumping $2.50 per ounce to $8.75 but still offering less incentive to new imports than the historic average.
Meantime in No.2 consumer-nation India, where extra import duty on gold – plus record high Rupee prices – saw Q3 jewelry demand sink 60% and October's Diwali festival saw at least a 25% drop in gold sales, the authorities in Karnataka today reported the arrest of a criminal gang
accused of smuggling $7.9m worth
of bullion into the south-western state over the last 3 months alone.