Gold Bullion Bar Prices Steady After 2nd Biggest Jump Ever as Comex Reviews Futures Settlement
Wednesday, 3/25/2020 17:40
GOLD BULLION BAR prices steadied at higher levels for the week so far on Wednesday, holding above $1600 per ounce – and with Comex gold futures in New York cutting their premium over physical metal in London – as global equities rose steeply for a second day.
That cut the US stock market's losses from this time last month to less than 20% after finance ministers from the rich West's G7 group of nations pledged to "to fight the Covid-19 outbreak and mitigate its impact...[and also] to promote global trade and investment to underpin prosperity."
Joint action was also seen Wednesday in the precious metals market, with the London Bullion Market Association offering its support to the CME Group "to facilitate physical delivery in New York" after yesterday's panic over bullion supplies from London – heart of the global gold market – saw April Comex futures contracts jump to $100 above spot prices.
"The mechanisms have not yet been specified," notes Rhona O'Connell at brokerage
INTL FCStone
, because "currently
London Good Delivery bars
[of 400 ounces each] are not deliverable against the CME contract" with its 100-ounce specification.
"At least one major bullion bank is believed to have asked for this to be relaxed...[raising] the possibility of settling [Comex contracts] with metal in London."
The CME said Wednesday it is
launching new gold futures contracts
settled with 400-ounce as well as 1-kilo bullion bars, the standard format agreed by LBMA and the Shanghai Gold Exchange for Asian wholesale trading.
Yesterday's stock-market surge saw New York's Dow Jones Industrial Average rise by more than 11%,
the most since 1933
, when the index rallied hard from its Great Depression crash on promises of heavy government spending by the Roosevelt White House, reaching levels it would then fall back to during the Second World War.
Gold prices meantime rose by the most in 40 years on Tuesday, adding a near-record $80 per ounce from Monday afternoon's price having suffered 2 of its 10 worst-ever daily drops so far this month.
Yesterday's jump in the global benchmark London price was beaten only by 18 January 1980 in terms of US Dollars per ounce – 3 days before gold set what proved to be a 3-decade high amid the Iranian hostage crisis and Soviet invasion of Afghanistan.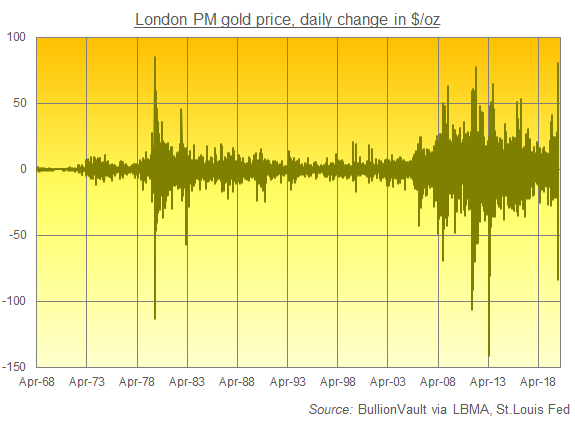 "Despite near-term headwinds," says the latest weekly analysis from specialists Metals Focus, "the macroeconomic backdrop has become increasingly favourable for gold.
"Aggressive interest rate cuts and unprecedented liquidity injections by key central banks will ensure the cost of carrying gold remains minimal. Meanwhile, a slowing global economy should also ultimately encourage a rotation from stock and bond markets to defensive assets such as gold."
European stock markets today reversed an earlier loss to head for 2-week highs on the EuroStoxx600 index, while gold bullion priced in the Euro retreated from touching €1520 overnight, its highest since the current all-time top of €1561 hit this time last month.
Silver prices erased last week's drop to trade at $14.50 per ounce.
Platinum prices
also extended Tuesday's steep rally, trading over 21% above last weekend at $742.