Gold Bullion Dead-Flat as Stocks Slip from Record, Trump Angers China, NATO Splits on Spending, Russia, Syria
Thursday, 11/28/2019 14:31
GOLD BULLION's trading range tightened still further on Thursday, holding the precious metal at a small loss for the week so far as world stock markets fell after US President Trump angered Beijing over the pro-democracy violence in Hong Kong and arguments within NATO worsened ahead of the Western military alliance's 70th anniversary summit in London next week.
With gold bullion prices moving barely $1.50 per ounce either side of $1456.50 in London, crude oil retreated again from the top-end of its last 4-month range, dropping below $58 per barrel of US benchmark WTI.
Other commodity prices also fell, extending the last week's drop towards the cheapest since early October for indices of broad natural resources.
"The bad news is, the trade war is still on," one analyst told Bloomberg TV overnight after Wall Street closed at fresh record highs for today's Thanksgiving holiday and Donald Trump signed into US law the Human Rights and Democracy Act, calling on Beijing to respect Hong Kong's political freedoms.
"But there is little change in the view that the global economic sentiment is bottoming out," another strategist said to Reuters.
The MSCI World Index of developed-market equities ended Wednesday with its second-highest close on record, less than 0.5% off the peak of January 2018.
Gold priced in US Dollars today traded 7.6% higher from then.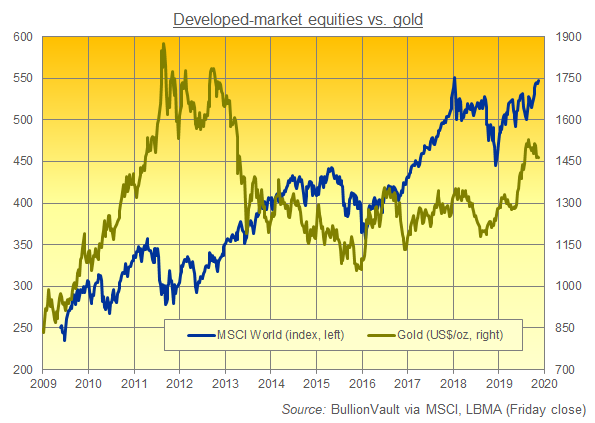 "Very quiet in Asia today as it appears everyone is sitting out the US holiday," says one Asian gold bullion trader.
Silver prices tracked gold bullion to flatline just below $17 per ounce.
Platinum prices
also eased back, retreating 2.6% from Tuesday's spike to trade unchanged for the week so far at $891 per ounce.
Summoning the US Ambassador today, "[You are] disregarding facts and distorting truth," said Beijing of Washington's new bill – passed unanimously by the Senate last week – adding that the US has "openly backed violent criminals who rampantly smashed facilities, set fire, assaulted innocent civilians, trampled on the rule of law, and jeopardized social order" in the last 5 months' protests.
With Shanghai's CSI stock index slipping near 1-week lows Thursday, European equities also fell as France's President Macron again questioned the purpose of the 29-member Nato alliance and pursued unilateral talks with Russia's President Putin over decommissioning some nuclear weapons.
"Is our enemy today Russia? Or China? Is it the goal of NATO to designate them as enemies? I don't believe so," said Macron today in Paris, adding to the alarm among other members he caused by saying the pact is suffering "brain death" in comments to The Economist magazine earlier this month.
"The preservation of NATO is in our own interest,
more than during the Cold War
," countered Merkel to her Parliament in Berlin today, vowing to raise Germany's spending on defense to 2% of GDP by 2030 – some 6 years behind the schedule agreed by all Nato members in 2014.
Merkel's move came after CNN reported overnight that the Trump White House wants to
slash Washington's contribution to Nato
's direct spending from 22% to around 16%, putting it in line with Germany's outlay.
"At the moment, Europe is unable to defend itself," Merkel went on.
The government of Turkey meantime blocked a Nato defense plan for the Baltics and Poland today,
sources tell Hürriyet Daily News
, after other members apparently including the US rejected a document calling Washington's former allies the Kurdish YPG in north-eastern Syria a "security threat" to Turkey.
New data today said Turkey's central bank in Ankara grew its
gold bullion
reserves to a 15-month record in October, comprised of 392.8 tonnes of state-owned bars – up by 4.5 tonnes from September – and a further 154 tonnes of commercial bank deposits, unchanged on the month.