Rising Odds of Trump Defeat See Gold Bullion Hit 7-Week High as US Fed Urges Fiscal Stimulus
Friday, 11/06/2020 14:18
GOLD BULLION headed for its highest weekly close in 7 against the Dollar on Friday, rising at its fastest pace since July's surge to new all-time highs as the US currency fell to 2-month lows and Western stock markets cut this week's earlier gains amid the ongoing and now contested US presidential election count.
Rising to $1956 per ounce in London trade today, and gaining 3.9% from last Friday's benchmark price, wholesale gold bullion bars set their current all-time high of $2075 on 6 August.
The metal has since fallen back to the $1850 area 3 times.
Despite the Dollar's weakness, investors in all other major currencies except the Japanese Yen and Australian Dollar also gold bullion head for a 7-week closing high.
Gold bullion
kilobars in Euro terms touched €53,000 at wholesale prices, while the
UK gold price
in Pounds per ounce reached £1491.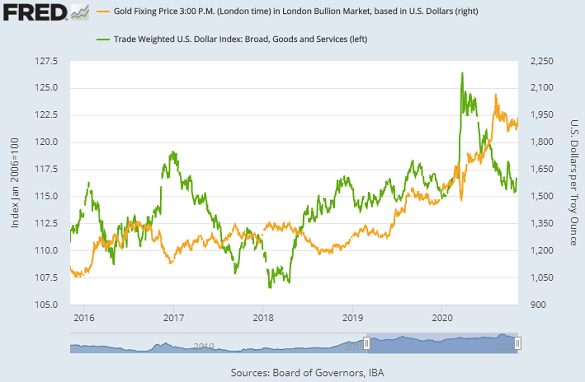 Silver prices
rose faster than gold bullion on Friday, up 9.2% for the week and coming within 20 cents of $26 per ounce for the first time since 21 September.
Having mirrored the
falling Dollar
yesterday morning, precious metals prices began rising in all currencies Thursday after current US President Donald J.Trump said "STOP THE COUNT!" on Twitter.
Announcing more lawsuits alleging electoral fraud, and holding a press conference where he alleged "historic election interference by big media, big money and big tech," Trump then returned to
Twitter
to say that "Twitter is out of control" in hiding many of the President's comments with a "
disputed content
" warning, blaming a legal clause his Democrat challenger Joe Biden has also
criticized
.
With the winner needing 270 electoral college votes to take the White House, the counting so far puts Biden on 253 (CNN, CNBC, BBC, New York Times) or 264 (Fox News, Wall Street Journal, Bloomberg), with the remaining states very close but edging against Trump.
The Democrat candidate now has Secret Service protection, the Washington Post
claimed
this morning, something normally accorded to victor.
I easily WIN the Presidency of the United States with LEGAL VOTES CAST. The OBSERVERS were not allowed, in any way, shape, or form, to do their job and therefore, votes accepted during this period must be determined to be ILLEGAL VOTES. U.S. Supreme Court should decide!

— Donald J. Trump (@realDonaldTrump) November 6, 2020
With pundits worldwide increasingly calling the election for Biden, but with the Senate still controlled by the Republicans, analysts widely expect a new US stimulus package to fight the Covid pandemic's economic depression to be delayed and then much smaller the Democrats would like.
"Federal stimulus payments and expanded unemployment benefits [have] provided essential support to many families and individuals," said US central bank chief Jerome Powell of the Federal Reserve yesterday, leaving monetary policy unchanged in November's announcement.
"As I have emphasized before, [ours] are lending powers, not
spending powers
. The Fed cannot grant money to particular beneficiaries...Elected officials have the power to tax and spend and to make decisions about where we, as a society, should direct our collective resources."
Repeatedly
criticized
by Trump for raising rates in 2015-2018 and attacked again for not going
negative
during this year's Covid Crisis, Powell is still part of "the continuing ultra-expansionary monetary policy pursued by central banks points to further rising precious metals prices," says German financial services group
Commerzbank
.
Eastern hemisphere stock markets rose Friday, extending this week's 5.5% jump in the MSCI Asia-Pacific ex-Japan while Tokyo's Nikkei set a new 2-year high.
European equities then fell however, knocking half-a-per-cent off this week's earlier 7.3% surge, as US government bond prices fell, edging US interest rates higher but leaving 10-year Treasury yields 8 points below last Friday's finish – and 0.88% below 10-year inflation forecasts – at 0.80% per annum.