Gold Bullion Sits Tight, "Geopolitics Scares Off Bears", Ahead of US Fed Meeting & GDP Data
Monday, 7/28/2014 15:39
GOLD BULLION prices held in a tight range around last week's close of $1307 per ounce in Asia and London on Monday, while the US Dollar ticked down from 1-month highs ahead of this week's key GDP data and Federal Reserve statement on monetary policy.
Commodity markets were flat overall as crude oil slipped but lead and platinum rose.
Russia's stock market fell to 12-week lows, as did its Ruble currency, ahead of the European Union meeting to finalize new sanctions against Moscow over its support for separatists in Ukraine.
The Hague-based Permanent Court of Arbitration today ordered Moscow to pay $50 billion in compensation to the former majority shareholders of Yukos, the oil company broken up and re-sold after founder Mikhail Khodorkovsky was jailed on political charges.
New data today showed activity in the US services industry holding this month at the strongest since early 2010.
United Nations' secretary general Ban Ki-Moon meantime said Gaza is in a "critical condition" and called for a 12-hour truce between Hamas and Israel to be extended "in the name of humanity".
"The Fed is likely to sound another cautious note on interest rates at [Wednesday's] meeting," says the latest precious metals analysis from Jonathan Butler at Japanese conglomerate Mitsubishi, "but any signs of an early rate tightening will be seized on by gold bears."
Speculative traders last week cut their total number of bearish bets on gold futures and options to the lowest level since late March, new data from US regulator the CFTC showed after Friday's close.
That took speculative traders' overall bullish position – net of those bearish bets – up to a notional 563 tonnes of gold bullion, some 70% greater than the last 18 months' average.
"Ongoing geopolitical tensions," reckons a precious metals note from Swiss investment and London bullion bank UBS, "likely caused nervousness among shorts, prompting them to close out positions."
"The [net bullish] speculative position in precious metals is high," says the latest commodities analysis from Standard Bank, noting that – as a percentage of open interest in US derivatives contracts – "gold, silver and platinum all have net speculative length close to the highest level seen this year, or well above the 5-year average level, or both."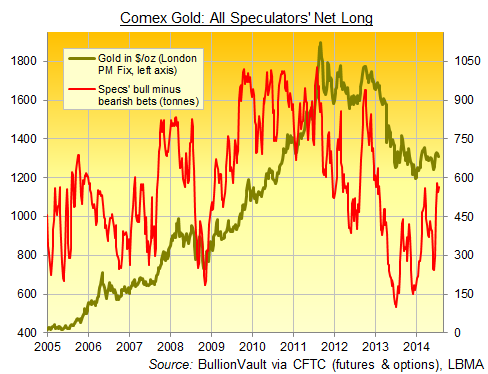 With bullishness already elevated, "their prices are likely to struggle to regain upward momentum," says Standard Bank's Walter de Wet.
US investment bank Morgan Stanley says its commodity analysts now expect "a sustained, re-acceleration in global growth, characterised by less negative surprises than we have seen over the past year – most of which boosted gold prices."
But London bullion market-maker Credit Suisse also notes
three "unusual headwinds"
– of tighter fiscal policy, relatively tight credit in US mortgage markets, and low household expectations for future wage growth – which it believes will prevent the US Fed under Janet Yellen from raising interest rates anytime soon.