Gold Bullion Holds $20 Rebound as Ukraine War Worsens, SEC Sues Coinbase
Tuesday, 6/06/2023 14:46
GOLD BULLION held onto yesterday's $20 rally in London on Tuesday, trading above $1960 as global stock markets fell with commodity prices as yesterday's weak economic data was followed by a sharp escalation of the war in Ukraine.
Monday's
weak global services-sector reports
for May were today followed by Germany's factory orders showing a 9.9% annual plunge in April, when the 19-nation Eurozone's retail sales flatlined from March.
That saw the gold price in Euros rise to €1840 per ounce, the top-end of its last 3 weeks' trading range, while UK Pound gold bullion prices rose to 3-session highs above £1580.
Gold bullion in May averaged a new record-high Euro price of €1833 – up by 11.9% from February 2022, when Russia's current invasion of neighboring Ukraine began – while the UK and US Dollar price slipped a little from their new records of April.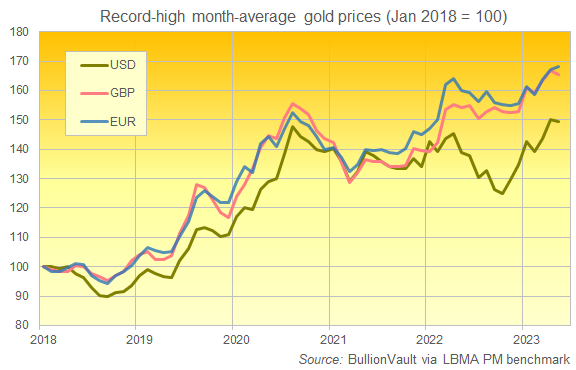 "This is bigger than Ukraine. This is a war about freedom, and
it's one we have to win
," said US Republican presidential hopeful Nikki Haley overnight.
Currently polling just 4% among Republican voters against her ex-boss Donald Trump's 49% and Florida governor Ron Desantis on 19%, the former South Carolina governor and ex-US ambassador to the UN challenged her rivals to help avert "World War 3" by supporting Ukraine, rather than tacitly backing the Kremlin under Putin – someone Trump last week said
he "got along with"
.
Bitcoin spiked down towards 3-month lows, while Coinbase stock (Nasdaq: COIN) dropped 15% in pre-market trade.
With global stock markets already slipping yesterday from start-June's 13-month high on the MSCI World Index, crude oil today gave back the rally it made on Monday's news of
Saudi Arabia cutting its daily output
by 1/10th to 9 million barrels per day from July.
Silver meantime held around last week's finish of $23.60 per ounce, while fellow industrial precious metals platinum and palladium diverged, with
platinum prices
peaking 4.4% above last week's 3-month low around $1000 while palladium bullion – which finds 2/5ths of its global mine supply from now heavily sanctioned Russia – retreated once more towards $1400 per ounce.
Longer-term interest rates edged back, cutting the US government's 10-year borrowing costs by 5 basis points from Monday's 1-week high of 3.75% per annum.