Gold Bullion Slips as Equities Defy Coronavirus's 'Worst Crisis at Worst Time' for Crude Oil
Tuesday, 2/04/2020 14:07
GOLD BULLION retreated beneath last week's lows to hit $1561 per ounce in London trade Tuesday, down over 1.5% from the weekend's 7-year high in US Dollar terms, as global stock markets rose sharply and industrial commodities also bounced after plunging amid the worsening coronavirus shutdown of world No.2 economy and No.1 oil importer China.
With coronavirus now infecting at least 20,000 people and killing 427 – all but 2 of them inside China – 24 out of China's 31 regional governments "have
told businesses not to reopen
before February 10 at the earliest," says the
South China Morning Post
.
Tuesday's slight rally in crude prices still saw gold bullion rise above more than 30 barrels of WTI per ounce for the first time since late 2016.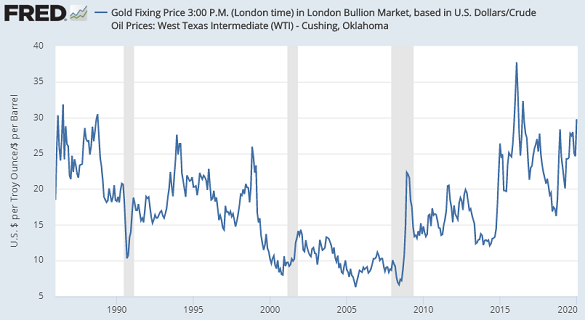 "For oil markets, this is the worst crisis, at the worst place, and the worst time," say data providers and analysts IHS Markit.
The Kremlin last night reported that Saudi Arabia's King Salman yesterday called Russian President Putin to discuss the situation for major oil producers "thoroughly".
European benchmark Brent overnight saw premiums for April delivery over May sink to minus 18 cents per barrel, notes
Bloomberg journalist Javier Blas
, down from 88 cents just three weeks ago and suggesting a plunge in immediate demand.
Holding an emergency 'technical meeting' today in Vienna, the Opec cartel of oil-producing nation had already "intensified its oil production cuts in December," says the newswire, going further than levels agreed in a "multinational agreement to prevent a glut" even before coronavirus broke out in Wuhan, knocking China's oil demand
at least 20% lower
.
China's central bank today injected further funds into the country's financial markets via short-term 'repo' deals, adding some $57bn of liquidity.
The Shanghai stock market rallied from Monday's plunge on returning from the Lunar New Year holidays, but the Yuan failed to rally above 7 per US Dollar.
Together with a drop in Chinese Yuan gold prices, that pulled the premium for bullion landed in gold's No.1 consumer market down to just 85 cents above London quotes, barely one-tenth the usual incentive for new imports but not unusual so soon after the peak household demand season of Chinese New Year has ended.
Platinum-group metals –
primarily used to cut harmful emissions
from carbon-fuel engines – meantime rallied and then retreated amid the shutdown of No.1 auto-market China plus news that world No.5 economy the UK will ban the sale of new petrol- or diesel-engine cars from 2035,
five years earlier
than previously announced, and also now including 'hybrid' electric vehicles.
Platinum bullion prices on Tuesday touched but failed to hold above $980 per ounce – an 18-month high when reached last September, but nearly 6% below last month's near 3-year peak, then
driven by record-high speculative betting
on Nymex platinum contracts.
Sister-metal palladium – which finds four-fifths of its end-demand in gasoline engine catalysts, and currently forecast to see another wide supply shortage in 2020 – meantime regained the $2400 mark, a new all-time record 3 weeks ago and a bounce of $150 per ounce from last week's slump.