Gold Prices Rise as UK-EU Brexit Talks Fail, Deflation Sees Bond Yields Drop, Stock Markets Gain
Friday, 10/16/2020 13:50
GOLD PRICES crept higher against a rising US Dollar in Asian and London trade Friday, halving the week's earlier $50 drop to reach $1910 per ounce as European stocks markets rose over 1.3% despite the collapse of UK-EU trade talks in Brussels.
That put the world's 5th largest national economy on track for a "no deal" exit from the world's 3rd largest economic bloc when its transition period ends on 1 January, some 4.5 years after the UK's narrow referendum win for Brexit.
After new data Thursday said China's consumer-price inflation slowed sharply in September from 2.4% to 1.7% per year, the 19-nation Eurozone today reported a 0.3% annual drop in the average cost of living for its 330 million citizens.
The
UK gold price in Pounds per ounce
meantime rose within £100 of early August's all-time high, trading at £1478 as Prime Minister Boris Johnson said talks with the European Union have broken down, one day after his own previous deadline for reaching a deal, and so British businesses should immediately start preparing for
"simple principles of global free trade"
.
With arguments over fishing rights and state-aid to private businesses apparently putting the talks in deadlock, "What we're saying to them is come here, come to us, if there's some fundamental change of approach," the PM said, 11 months after winning a landslide General Election promising an "over-ready deal" then agreed and signed in January, but over-turned by Johnson's Internal Markets Bill, now
making its way through Parliament
.
"[Am] surprised by suggestion that to get an agreement all future moves must come from UK," the former newspaper columnist's chief trade negotiator, former Scotch-whisky lobbyist and now Lord, David Frost said overnight.
Euro gold prices also recovered this week's previous drop, reaching €1628 – also some 7% below this summer's new top – as European stock markets erased most of the week's earlier 2% drop on the EuroStoxx 600 index against a backdrop of falling long-term interest rates in the government bond market.
"This is important," said Julien Bittel, multi-asset fund manager at Swiss wealth firm Pictet of the drop in 30-year German Bund yields further below zero.
"Reflation? Looks more like deflation?"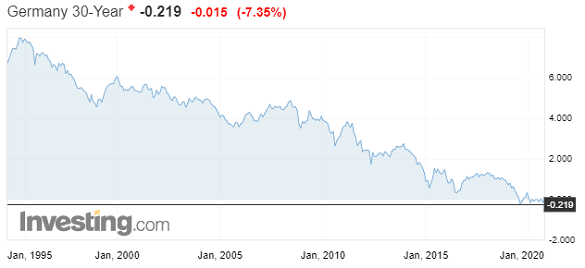 The rise in Eurozone government bond prices this week pushed Italy's 10-year borrowing costs down to new all-time lows of 0.63% per annum, cutting the
spread for BTP-over-Bund yields
, which tracks Italy's borrowing costs relative to Germany's, down to the lowest in 2.5 years at 1.2 percentage points.
Portugal meantime raised €1 billion from an auction of new bonds, including 8-year bonds bought by investors at
€117.75 per €100 of debt
– 75 cents above the total return they will make, before accounting for any inflation, when the bonds are repaid in 2028 after annual coupons of €2.125.
"It is part of a general trend of
dropping yields in the periphery
...on the back of the prospect of monetary and fiscal support from the ECB and EU respectively," reckons Dutch bank ING's senior rates strategist Antoine Bouvet.
"Italy, Greece, Portugal, they all stand to benefit a lot from ECB purchases and EU fiscal support when it materializes."
US Treasury and UK Gilt yields also slipped further on Friday even as commodity prices continued to rise, taking natural resource costs up to challenge the post-Covid Crash peaks of the last month.
With Covid-19 restrictions and shutdowns being re-imposed across the European Union, this weekend's summit of EU leaders will discuss joint fiscal stimulus, an idea floated in March.
US Treasury Secretary Steve Mnuchin confirmed late Thursday that bipartisan agreement on a stimulus deal in Washington is now very unlikely this side of 3 November's contentious White House election.