Gold Bars' Premium Hits 3-Year High in China as Base Metals 'Break Downtrends'
Tuesday, 12/06/2016 15:38
GOLD BARS
traded in London – heart of the world's wholesale bullion market – rallied $15 per ounce from yesterday's new 9-month low on Tuesday as the US Dollar weakened and major government bonds edged higher.
At Shanghai's official benchmarking auction overnight in China, where the authorities are apparently curbing import licenses ahead of the heavy New Year demand season, premiums for gold bars
rose Tuesday
to new 3-year highs at $27 per ounce over quotes for London settlement .
The world's No.1 consumer nation, China likely influences global gold prices through the incentive for new bullion bar imports which this differential offers, according to
research from specialists Metals Focus
, "although the relationship is far from straightforward."
"We expect the upward trend to resume in 2017," says a new gold price outlook from German financial services giant Commerzbank.
"The headwind from US Dollar appreciation and the rise of bond yields should abate, and investment demand should pick up again also given the numerous risk factors."
Money managers' favored vehicle the SPDR Gold Trust (NYSEArca:GLD) again saw shareholder liquidation on Monday, needing one-third of a tonne less to the back the value of its stock, now below 870 tonnes – equivalent to some 28% of annual world mining output.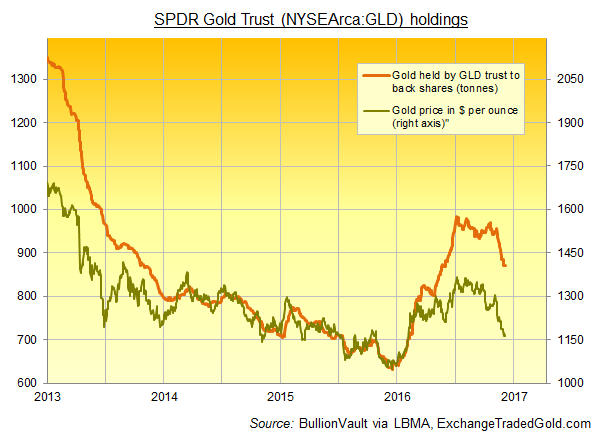 Besides
gold investing demand
– now at 5-year highs amongst self-directed investors wanting physical metal – Commerzbank also expects 2017 to see "noticeably" stronger gold bar, coin and jewelry demand from consumers in Asia after this year's sharp falls.
US Treasury bond prices meantime ticked higher Tuesday for only the 7th time in the last 24 trading days, holding 10-year yields down at 2.39% – sharply higher from the 1.85% offered to new buyers on the eve of Donald Trump's presidential election win.
Western stock markets rose, cutting the EuroStoxx50 index's loss for 2016 to 6.5% after Italian prime minister Matteo Renzi lost the weekend's referendum on constitutional reform, while commodity prices slipped, led by energy and base metals.
Aluminium has still broken an 8-year downtrend in prices however, says a new chart analysis from French investment and bullion market-making bank Societe Generale, while copper has broken up through a 5-year downtrend.
For gold bullion, which failed to break its downtrend starting mid-2011 with both the Brexit and then US election spikes of June and November respectively, "Daily indicators are close to a floor," says SocGen's technical team, "[but] signs of rebound are still awaited."
Gold priced in Australian Dollars meantime rose Tuesday back to last week's closing level at A$1574 per ounce – unchanged from this time last year – after the Reserve Bank in Sydney
held its key interest rate unchanged
at a record low 1.5%, repeating that "inflation is expected to remain low for some time."