Wholesale Gold Bars Hit 2-Week Low, Down £50 from UK Record as 'Mid-Cycle' Fed Enrages Trump on Rates
Thursday, 8/22/2019 14:35
GOLD BARS traded in London's wholesale market slipped to 2-week lows against most major currencies except the Euro on Thursday, losing 1.5% for the week so far as longer-term interest rates rose from their recent all-time lows in the bond market on news that the US Federal Reserve is cautious about cutting interest rates further.
Cutting its key policy rate one notch from a decade high to 2.25% at the end of July, the Fed's voting members "generally favored an approach...guided by incoming information [instead of] following a preset course" according to minutes of that meeting
released on Wednesday
.
"Most participants viewed a proposed quarter-point policy easing at this meeting as part of a recalibration of the stance of policy, or mid-cycle adjustment, in response to the evolution of the economic outlook."
That view has been repeated this month by several Fed members.
Chairman Jerome Powell will give a speech at the annual Jackson Hole central-banking conference on Friday.
Doing great with China and other Trade Deals. The only problem we have is Jay Powell and the Fed. He's like a golfer who can't putt, has no touch. Big U.S. growth if he does the right thing, BIG CUT - but don't count on him! So far he has called it wrong, and only let us down....

— Donald J. Trump (@realDonaldTrump) August 21, 2019
Despite a revision to US payrolls estimates saying that the world's largest economy has
added half-a-million fewer jobs
than previously reported since New Year 2018, new data today said claims for jobless benefits were lower than analysts expected last week.
Eurozone data meantime said the manufacturing slump has eased in the world's second largest currency bloc so far in August, with France seeing growth as Germany continues to slow.
With French, German and Dutch bond rising but still negative on Thursday, Italy's 10-year borrowing costs held less than 200 basis points – near the lowest in 15 months – as President Mattarella demanded the coalition M5s and Lega government must
appoint a new prime minister by Monday
following the forced resignation of centrist figure Giuseppe Conte.
Bouncing slightly from €1347 per ounce Thursday, the Euro gold price has – on a 12-month basis – moved in the same direction as the BTP-Bund spread some 65% of the time since the single currency was launched 20 years ago.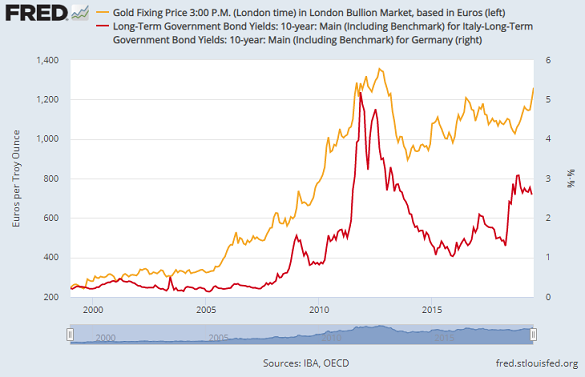 Priced in the Dollar, wholesale gold bullion bars slipped beneath $1493 per ounce on Thursday, while
10-year US Treasury bond yields
today traded almost one-tenth of a percentage point above last week's new 3-year lows.
The UK gold price in Pounds per ounce
meantime dropped near £1221 – a two-week low some 4% below this month's new all-time record high of £1271 – as Sterling jumped on France's President Emmanuel Macron saying that the UK's Brexit withdrawal agreement is open to re-negotiation.
Rejecting the new UK Prime Minister's wish to can the Irish backstop, "We should all together be able to
find something smart within 30 days
on both sides if there is goodwill...and I believe there is," said Macron, repeating the deadline offered to Boris Johnson yesterday by Germany's Angela Merkel.
Gold prices in China – the No.1 gold consumer nation – earlier closed little changed on Thursday, with gold bars traded in Shanghai costing 1.4% less than last week's near 7-year highs.
Beijing has blocked virtually all new bullion imports,
according to Reuters
, as the central bank tries to stem outflows of Dollars and so support the Yuan amid an economic slowdown and ongoing trade war with the US.
Gold bullion bar imports to No.2 consumer nation India
rose over 15% in the April-July quarter
, new data said Wednesday, extending a run of double-digit growth in all periods except February according to the
Economic Times
.
"[But] Indian gold demand [then]
nosedived in July
after an impressive first half," says data and analysis provider GFMS at Refinitiv and "demand is still fragile in August."
With supply ample and demand crushed by high world prices, rising tax and the typical summer lull, gold bars are
now trading at a record discount
to London in India's domestic market according to data compiled and published by the mining industry-backed World Gold Council.