Gold Bars Up, Bond Yields Down as Stock Markets Fall Amid Weak German Data, Euro Elections and US 'Trade Warmongering'
Thursday, 5/23/2019 13:51
GOLD BARS traded in the global hub of London recovered last week's closing level of $1278 per ounce on Thursday and also neared 1-week highs for UK and Euro investors as opinion polls suggested that the dominant center-right and 'progressive' parties will loss seats to 'populist' and far-right groups in the European Parliamentary elections, and new data showed the region's economic slowdown worsening.
Germany's Ifo survey of business expectations came in less gloomy than expected, but the Eurozone's No.1 economy has seen manufacturing activity shrink for a 5th month running so far in May, the IHS Markit PMI report said.
Major government bond prices rose as world stock markets fell across the board, driving 10-year German Bund yields down to -0.10 per annum, some 3 basis points above last week's drop to September 2016 levels.
Large gold bars traded through London's professional market rallied to €1145 per ounce as the single currency slipped on the FX market.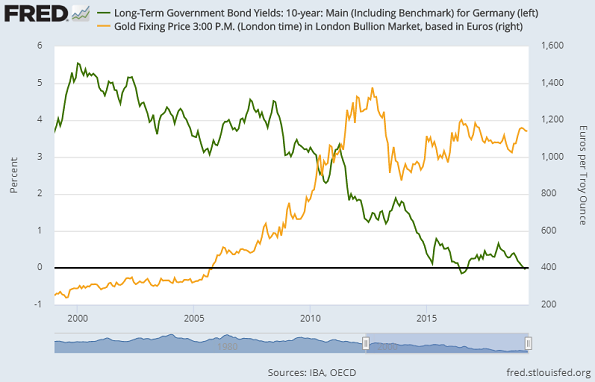 Ten-year US Treasury yields meantime fell to 2.36%, the lowest in 18 months, while 2-year yields dropped back below 2.20%, a 15-month low when hit last week.
"In the name of 'fair trade'," says an opinion piece from China's state-run
Xinhua news agency
, "trade hawks in Washington are waging a global assault on the flow and the spirit of free trade.
"Washington's trade warmongering [and] bullying will come home to roost...nobody will win."
Shanghai premiums for gold bars landed in China rose above $15 per ounce over London quotes, the biggest incentive for new imports into gold's No.1 consumer market since this time last month, some 75% greater than the historic average.
The
price of gold bars in UK Pounds
meantime hit 3-month highs above £1015 per ounce as Sterling sank to new 2019 lows amid speculation that Prime Minister Theresa May will resign after cancelling her 4th attempt to get Westminster's approval of her Brexit Withdrawal Agreement with the European Union.
The Indian Rupee meantime edged back to 70 per Dollar – a new all-time low when first reached last August – even as early results from the 2019 Lok Sabha elections suggested a landslide re-election victory for Prime Minister Narendra Modi of the nationalist Hindu BJP.
Mumbai's BSE Sensex stock index ticked a new record high above 40,000 points – up some 2.5% from below 35,000 this time last year – but then closed 0.8% down for the day.
With India's long-awaited formal 'gold policy' still pending after last year's
NITI Aayog recommendations
, "I am sure we can expect some great initiatives for the gold and jewelry industry in the next five years," commented Joy Alukkas, chairman of major Indian jewelry retailer the Joyalukkas Group.
Neighboring Pakistan said it wants to open peace talks over the disputed Kashmir region, but also announced
firing tests of its 1,500-mile range
Shaheen II surface-to-surface missile.
Silver prices meantime tracked wholesale gold bars higher, rising to 1-week highs for Dollar investors at $14.60 per ounce.
Platinum lagged the two monetary precious metals however, holding a $3 drop for the week so far at $803.