China's Gold Bar Premiums to London Hit 18-Month Low as Covid-19 Puts Global GDP Growth at Risk
Friday, 2/14/2020 14:11
GOLD BAR prices ticked higher in London trade Friday, rising against the US Dollar for the 6th of 7 weeks so far in 2020 and setting fresh all-time highs against the Euro currency as global stock markets struggled despite a drop in new cases of coronavirus reported by world No.2 economy China.
Large
gold bullion bars
this morning peaked nearly $10 per ounce above last Friday's finish, trading at $1577 as the start of New York trading approached after yesterday's surprise strength of 2.3% per year in US 'core' inflation for January.
Investors in the 19-nation Eurozone meantime saw gold bar prices touch €1456 as Valentine's Day began, marking a new all-time high for the second day running.
Gold prices in China meantime ended the week 0.8% higher from last Friday as the Yuan currency again held just better than the key 7-per-Dollar level on the FX market.
With Covid-19 now causing 1,381 deaths – all but 1 of them inside China, and more than 73% of them in the source city of Wuhan – Beijing today said
nearly half-a-million people
have been identified as having had close contact with infected patients, over 177,000 of whom are now under medical observation.
Rush-hour traffic in China's major cities has still failed to return 2 weeks after the Lunar New Year holidays ended, official data show, with fewer than half of the country's companies so far able to get back to work according to a survey by investment bank CICC.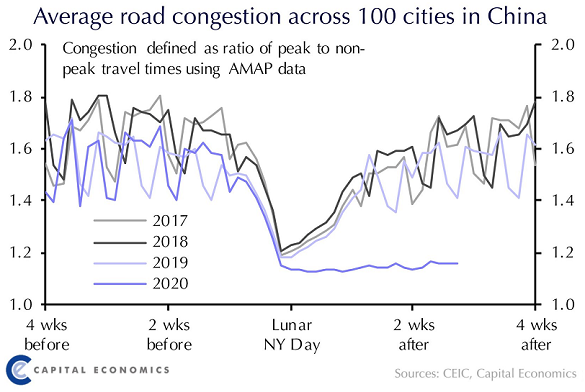 "Although covid-19 has now claimed more lives than SARS," says
The Economist
magazine, looking at that 2003 virus outbreak and also at today's record-high global stock markets, "
investors remain optimistic
that its economic effects will follow a similar path...[with] a sharp hit to [China's] growth followed by a strong rebound."
But this calendar quarter
will now mark China's weakest growth
since the early 2009 financial crisis if not the start of the 1990s according to a poll of East Asia-based economists by news and data providers Reuters.
In contrast to 2020, adds ratings and research agency Ind-Ra – and with China now accounting for more than one-sixth of global GDP – the SARS outbreak of
2003 found the world much "less dependent
on [what is now its] biggest manufacturing hub."
Internally, "About 30 million small and medium-sized businesses contribute more than 60% of [China's] GDP," says CNN, reporting a survey of 1,000 small and medium-sized companies by Tsinghua and Peking Universities last week and saying that one-third fear
they can't survive beyond early March
with the cash they currently hold.
Prices for gold bars traded in Shanghai this week averaged just 50 cents more than comparable London costs, based on the two cities' daily benchmarks.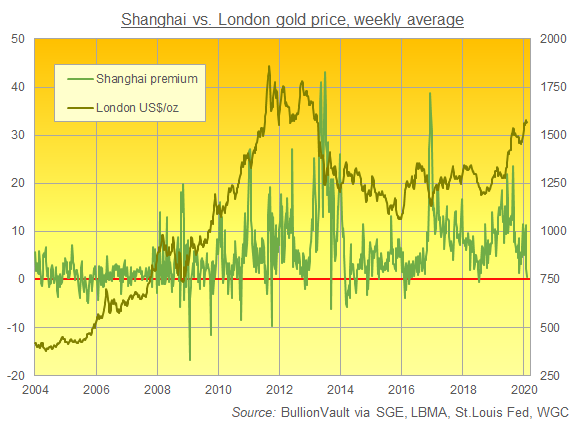 That marks the weakest incentive for new imports of gold bars into China – the metal's No.1 consumer market since overtaking India in 2013 – in more than 18 months, less than one-tenth the typical Shanghai premium over the last 15 years on
data compiled and published
by the mining industry's World Gold Council.
Back in US Dollar terms, silver prices popped higher Friday lunchtime in London, rising above last weekend's level to trade at $17.80 per ounce, some 1.8% above Wednesday's dip near 2-month lows.
Platinum also followed gold bar prices higher for the week, rising near $974 for a $5 per ounce rally.