Gold Bar Buying Rallies in China as ETF Investing 'Plugs Covid Demand Gap', Stocks Markets Slip
Tuesday, 10/27/2020 14:41
GOLD BARS traded in London ticked higher in quiet trade Tuesday, holding in a tight $10 range above $1900 per ounce as world stock markets extended yesterday's US plunge as the Covid pandemic's second wave worsened ahead of next week's US presidential election.
US tech-stock index the Nasdaq struggled to rally from Monday's 2.0% drop, led by German-based SAP (Nasdaq: SAP) plunging over 20% after it slashed 2020's earnings outlook on falling sales amid the global virus crisis.
The EuroStoxx 600 index meantime slipped to trade 5.0% below the peak first reached in June, halving the spring's Covid Crash.
Wholesale gold bars priced in Euros have added €100 per ounce since then, trading at €1611 in London on Tuesday.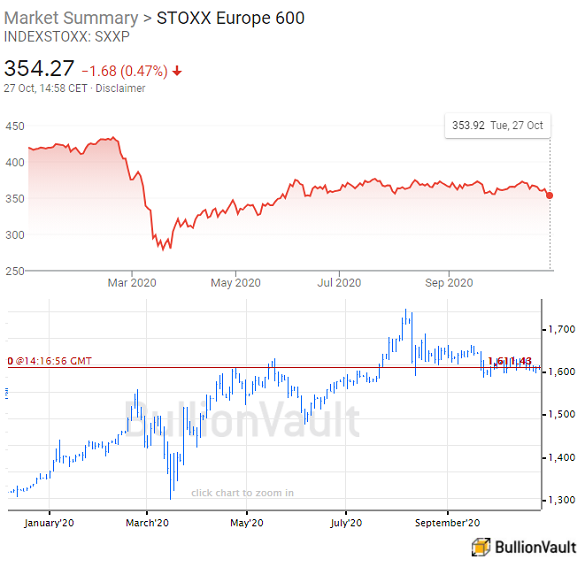 "Gold is continuing to lack support from physical gold demand in Asia," says Germany's Commerzbank in a note.
"Swiss trade data had revealed last week that gold demand in India and China was still rock bottom in September."
Data from the Beijing-approved China Gold Association today said the country's world-leading mine output slipped 1.9% in July-September compared to the same period last year, a slower rate of decline than Jan-June's 5.9% drop.
China's consumer gold buying – also the largest among any nation worldwide – fell 8.1% year-on-year in Q3 after plunging by 38.3% in the first half of the year. Within that, jewellery demand dropped 17.8% (versus -42.1% in H1), industrial use dropped 13.6% (-25.2% in H1) but private demand for
gold bars
and coins rose 25.0% (-32.1% in H1).
Gold bar and coin demand worldwide will rise around 7% in 2020, according to data from specialist analysts Metals Focus, amid a broader
25% collapse in gold demand
for fabricated products.
"Investors will
continue to plug the demand gap
," says competitor consultancy Refinitiv, pointing to the 3-fold jump in annual flows to gold-backed ETF trust funds traded on the stock market.
"Stockpiling 1,205 tonnes this year," reckons Refinitiv's research director Cameron Alexander,
gold ETFs
will set another annual record in 2021, expanding to need another 1,362 tonnes next year.
Gold's 2 largest ETFs showed little change yesterday, with the SPDR Gold Trust (NYSEArca: GLD) stemming 4 days of net investor outflows to need 1263.8 tonnes of gold bars, while the smaller iShares Gold product (NYSEArca: IAU) shrank by 0.1 to 526.4 tonnes
Silver's giant iShares ETF (NYSEArca: SLV) was also unchanged in size Monday as the metal's price lagged gold's small rally to trade near 1-week lows at $24.30 per ounce.
The SLV shrank by 0.4% last week to the smallest in 3 weeks, needing 2% fewer silver bullion bars in backing that mid-August's all-time record.
India's key Hindu festival of Diwali next month is now seeing
some re-stocking
by wholesalers and dealers, according to press reports, helping prices inside the world's No.2 consumer nation edge back above international quotes for wholesale gold bars for only the 4th month in the last 60
according to data
compiled by the mining industry's World Gold Council.
Market-leader Muthoot (NSE: MUTHOOTFIN) today opened
a sale of $270m in bonds
, aiming to raise finance from investors to fund its fast-growing loan book.