Euro Gold Jumps Near 2-Year High, Halves 2013 Plunge as Currency Sinks with Sterling, Global Equities Jump
Friday, 4/10/2015 15:33
EURO gold prices jumped towards their second-best weekly close in two years Friday, rising 3.9% from before Easter as the single currency sank and spot gold jumped back above $1200 per ounce in Dollar terms.
Erasing an earlier dip, "Precious metals [made a] sharp reversal despite stronger USD," says one London bullion bank's trading desk, calling it a "bullish sign".
"[There's] a growing consensus that rates will remain easy for the near-term, and less of a threat for gold," says a note from Japanese trading house Mitsui Global Precious Metals' team in Hong Kong.
But "unless incoming economic reports diverge substantially from projections," said US Fed policymaker Jeffrey Lacker in a speech Friday, "the case for raising [Dollar] rates will remain strong at the June meeting."
The pan-European FTSE Eurofirst 300 index of listed stocks today rose for a ninth consecutive week to join the Japanese Nikkei in touching fresh 15 year highs.
That still put Tokyo shares at half their all-time peaks of late 1989 however.
With the UK General Election now less a month away, the British Pound meantime sank to its lowest level since before the Conservative-led Coalition government took power in May 2010, falling over 1 cent to $1.46 after weaker than forecast manufacturing data.
That helped the gold price in Sterling jump 1.4% to reach 9-week highs above £825 per ounce – a record high when first touched on the day of the 2010 ballot.
Gold priced in Euros touched €1140 as the single currency fell below $1.06 – better than halving its 38% plunge of September 2012 to New Year 2014.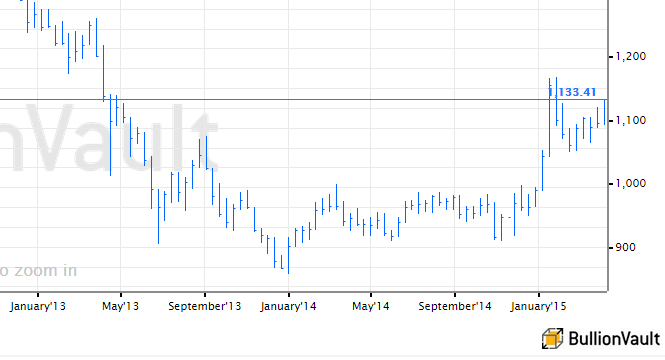 Central banks worldwide last year cut their Euro holdings to just 22% of global FX reserves, new data from the International Monetary Fund said Friday, down from 28% a half-decade ago – before the currency zone's debt crisis.
"Most of the fall in the Euro share [of global reserves] represented outright selling," Bloomberg quotes Ray Attrill at National Australia Bank Ltd, rather than simply reflecting 2014's drop in the currency's FX value.
Surging bond prices today pushed yields on 8-year German Bund briefly below zero, while the Dax index of German stocks has now risen 6.6% since the European Central Bank began its €60 billion-per-month quantitative easing asset purchases this time in March – but that gain drops below 4% in US Dollar terms.
Euro gold prices have risen 5.5%.
Now marking Good Friday on the Orthodox calendar meantime, the government of Greece yesterday repaid €450 million of bail-out loans on schedule to the IMF.
Athens now has 6 days to re-submit proposals for unlocking fresh bail-out loans from its Eurozone partner governments.