UK Price to Buy Gold Falls Near £1000 as May Caves on 'No Deal', Mega Miners' War of Words Worsens
Tuesday, 2/26/2019 14:05
BUY GOLD prices in London's wholesale market slipped in Dollar terms Tuesday but fell to multi-week lows for other investors as the US currency continued to drop on the currency market.
Governments around the world meantime
called for "restraint"
between India and Pakistan after New Delhi said that overnight air-strikes deep inside its neighbor's territory killed "hundreds" of terrorists linked to this month's suicide bombing in the disputed Kashmir border region, claims
denied by Karachi
.
World stock markets also fell, as did major government bond yields, following weak readings on consumer sentiment surveys from France and Germany, the Eurozone's biggest economies.
Prices to buy large gold bullion bars with Euros fell back to €1166 per ounce, a 22-month high when first reached in mid-February but €20 below last Wednesday's peaks.
The
UK price to buy gold in Pounds
meantime fell within £1.50 of £1000 per ounce, its cheapest so far this month, as Sterling rose amid talk of a delay to Brexit or even a second referendum.
Twice defeated by Parliament over her agreed deal with the European Union, Prime Minister Theresa
May today promised 'soft Brexit' members
of her Conservative Party a vote on blocking the possibility of a "hard" no-deal exit on 29 March, something urged overnight by the opposition Labour Party.
"How and when the UK's exit will take place is far from certain," says the
latest Gfk opinion survey
in Germany, also reporting "growing uncertainty" among German households over the "ongoing trade dispute between Europe, China and the USA.
"Economic expectations continue to fall unchecked."
France's Insee
agency meantime reports "sharply decreasing fears" of unemployment among French households, but inflation expectations are seeing "a clear rise".
Altogether, that is keeping economic confidence "below its long term average" – shown as 100 on this chart.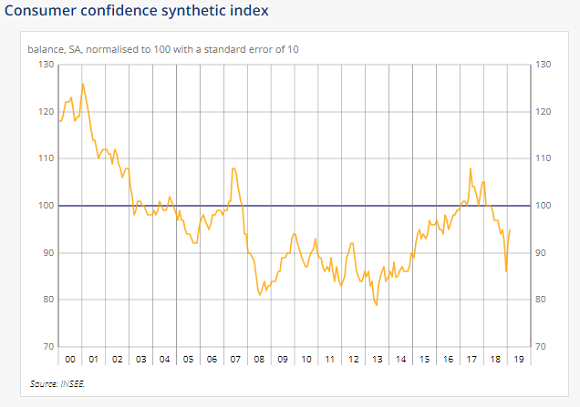 In the gold mining sector meantime, No.1 producer Barrick (NYSE: GOLD) pursued a war of words with the management of Newmont (NYSE: NEM) – the No.2 producer it's now hoping to buy with a hostile $16bn takeover bid.
Calling Newmont chief Gary Goldberg a "loser", Barrick CEO Mark Bristow – formerly head of Randgold until its 'mega-merger' with GOLD last month – told news-wire journalists "I have spent a lot of time in [NEM's home state of] Nevada, and I have
no doubt that I can do a better job
than Newmont."
Calling Barrick's move "desperate" and "bizarre", Newmont CEO Gary Goldberg reckons Bristow's "credibility and experience" and performance are "anemic", and says Barrick has also
"destroyed shareholder value."
No.3 producer AngloGold Ashanti is meantime looking to sell, not buy gold mining assets, its CEO (and former Barrick president) Kelvin Dushnisky said Tuesday.
"As we look at the assets portfolio, it is very important that we can see...long-term potential...[or] strategic reasons to disinvest."