Silver 'Set for Industrial Boost' and 'Investment Fever' as US Protests Spread, Europe Eases Lockdown
Monday, 6/01/2020 14:51
SILVER PRICES again outpaced gold in London trade Monday, with the yellow metal paring earlier gains following fresh protests and violence across the United States following last week's death of an unarmed black man in police custody, writes Atsuko Whitehouse at BullionVault.
With European economies continuing to ease their anti-Covid-19 lockdown rules, spot gold prices edged back from 1-week highs at $1744 per ounce Monday morning, while the Dollar Index – a measure of the US currency's value versus its major peers – fell for the 5th consecutive session to drop near its lowest in 3 months.
Silver prices
also retreated but held onto half of an early 2.8% gain, reaching $18.39 per ounce this morning – the highest since 24 February.
Silver already made 14.7% gains last month as the US Dollar strengthened, recovering further from March's sudden 11-year low as the Western world moved to impose anti-Covid lockdowns.
The strength of silver pushed
the Gold/Silver Ratio
– which tracks the two formerly monetary metals' relative prices – down further to just under 95, the lowest value for gold versus silver in 3 months.
It reached above 123 in mid-March as lockdown began.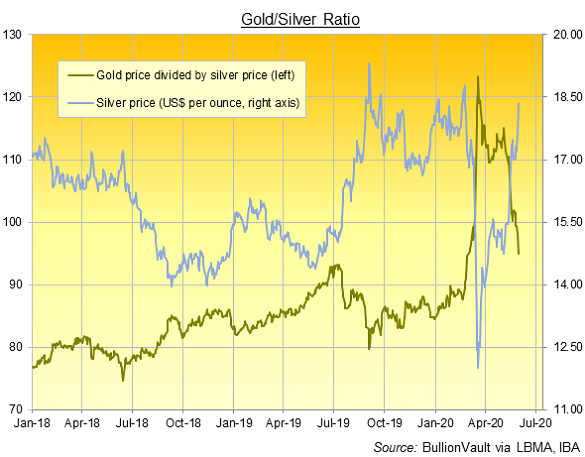 Because
silver is primarily an industrial metal
today, "unlike gold, it
may get a boost
as major economies ease coronavirus-linked restrictions which will only fuel hopes of an economic recovery," reckons Steven Dunn, head of exchange-traded funds at Aberdeen Standard Investments.
"The longer gold keeps having a good performance you will get speculators who will go
'Oh silver is really cheap'
," says Grant Beasley, a fund manager at Highbury Capital in Toronto.
Latest data show that hedge funds and other leveraged speculators in Comex silver futures and options increased their bullish betting further on silver as a group in the week-ending 26 May, but left their bearish betting almost unchanged.
Overall, that pushed the net long position of Managed Money traders to an 11-week high.
According to the same data, published by US regulator the Commodities Futures Trading Commission (CFTC), speculators in contrast cut their net bullish betting on gold to a 1-year low last week, and the total number of Comex gold future and option contracts open across the market dropped below 1 million for the first time in 2 months.
Even so, net speculative betting on Comex gold contracts held 65.9% above its long-term average last week.
For silver, that figure was just 3.1%.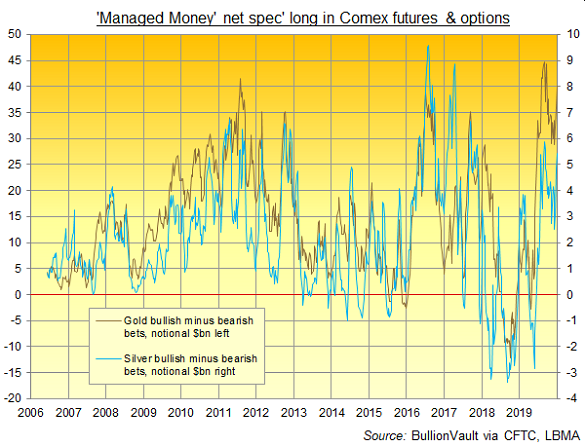 "As the speculative fever [in silver] increases retail investors will go crazy," reckons Beasley at Highbury Capital.
"And then when they are feverish you're close to the top."
Global stock markets also pulled back from overnight gains as the start of New York trading approached on Monday, while news reports said major state-owned Chinese agricultural companies are halting purchases of US products including soybeans and pork.
President Donald Trump had earlier taken a more dovish stance than expected towards China over Beijing's power-grab in the formerly "autonomous" region of Hong Kong, warning that he may impose new sanctions and withdraw some trading privileges for the city rather than applying them immediately.
The Chinese dictatorship's official news agencies meantime used the civil unrest over the police killing of George Floyd to rebuff the USA's complaints over human rights abuses.
Gold prices for European investors edged back below to €1560 per ounce, a record high when first reached in mid-April, ahead of more monetary easing and stimulus expected from the European Central Bank when it meets on Thursday.