Silver Prices Forecast to Rise Further in 2021 as SLV Investing and Solar Demand Grow
Monday, 4/26/2021 14:59
SILVER PRICES held steady Monday, reversing an earlier slip alongside gold as the US Dollar turned higher ahead of this week's Federal Reserve meeting and leading analysts forecast that the precious metal will extend 2021's jump, writes Atsuko Whitehouse at BullionVault.
Spot silver prices today rose to $26.20 before edging back 10 cents after rising for 3 weeks running and touching 7 week-highs last Wednesday at $26.64 per ounce.
Gold meantime fell to $1770 before reversing that $6 drop but holding $20 below Wednesday's 8-week high near $1800.
"We have seen some short-term buying interest
come back into the market
in line with the weaker Dollar and lower bond yields," says derivatives platform Saxo Bank's commodity strategist Ole Hansen.
"But if we fail to break higher soon, then there is a risk we could run into some renewed period of profit taking."
The Dollar edged higher from a two-month low while US Treasury bond yields also rose ahead of the Federal Reserve's policy meeting and forecasts, due out together with the latest US inflation data later this week.
"Silver benefits from a 'best of both worlds' narrative, linked to its dual nature being both a precious and industrial metal," says the new
World Silver Survey
produced by specialist analysts Metals Focus for the Silver Institute.
With industrial demand forecast to grow while investment demand stays firm,
Metals Focus
believes the annual average silver price in 2021 will rise 33% from last year's level to reach $27.30 per ounce.
Silver prices rose 27% in 2020 to an annual average of $20.55 per ounce.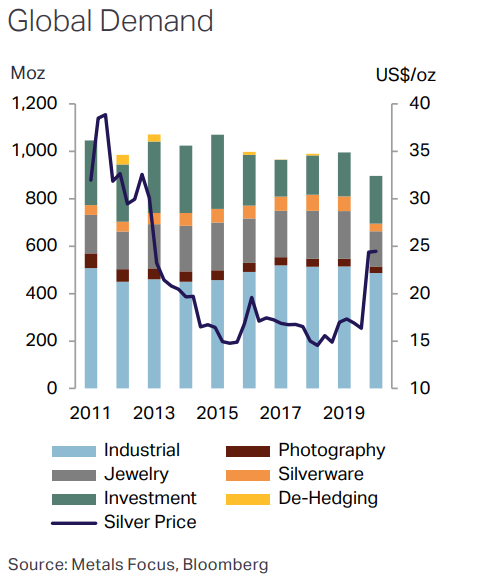 Industrial silver demand is forecasted to rebound by 8% after falling 5% last year to its weakest in a half-decade due to the impact of the Covid-19 pandemic.
"Much of the increase will come from a re-opening of economies and investment in green energy solutions," says Metals Focus.
Solar energy installations will also play a large part in demand growth, because
silver's sensitivity to light
has found fast-growing use in the photovoltaic industry, the leading current source of green electricity.
Net physical investment in silver jumped 8% last year to the highest since 2016 on Metals Focus' data, with record inflows into silver-backed ETPs already extended in 2021.
iShares' giant silver ETF trust (NYSEArca: SLV), the biggest silver ETPs, grew 54% in 2020, recording all-time highs in August and then seeing massive inflows to reach another peak on
the 'Reddit Ramp' of late January
and early February, with prices peaking over $30 per ounce, a level not seen since 2013.
The SLV then liquidated 16% from that new record to need 17,724 tonnes of backing last Friday, recording its 11th consecutive weekly outflow but still 2% larger from the end of last year.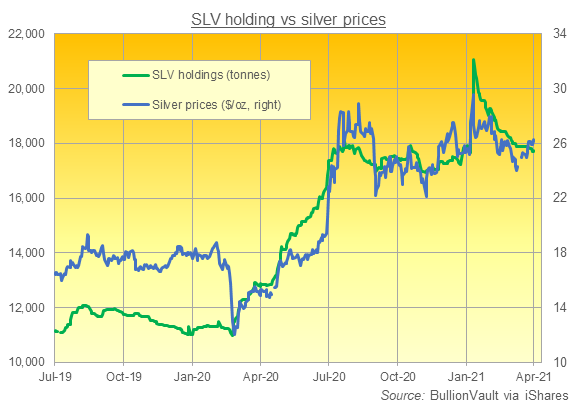 Latest data show that hedge funds and other leveraged speculators in Comex silver futures and options grew their bullish betting still further on silver as a group in the week ending 20th April but expanded their bearish betting slightly.
Overall, that pushed the net long position of Managed Money traders to an 8-week high, rising fo the 3rd week in a row.
Speculators also raised their net bullish betting on gold according to the positioning data published by US regulator the Commodities Futures Trading Commission (CFTC), raising the balance of bullish over bearish bets by 14% ahead of last Wednesday's 8-week price peak at $1797.
Oil prices today fell 1.5% as Covid-19 cases in India, the world's third-biggest oil importer, surged to a new record peak for the 5th day running, with almost 1.5 million people confirmed as infected since this time last week.
In Japan, the world's fourth-largest oil buyer, a third state of emergency began Sunday in Tokyo, Osaka and two other prefectures, affecting nearly a quarter of the entire population as Covid cases surge.