Silver Hits 3-Year High, Gold Retreats as UK and Italy 'Defeat Populists'
Wednesday, 9/04/2019 14:42
SILVER PRICES traded at 3-year highs in London's wholesale bullion market on Wednesday, rising by fully one-third against the strong US Dollar across summer 2019, but gold edged back as world stock markets rose with commodities amid talk of stimulus spending from governments in the Eurozone and UK.
Copper rallied 1.7% from Tuesday's drop to the lowest in more than 2 years.
Crude oil added over $1 per barrel to $55, but remained one-quarter below last October's 4-year highs.
Gold priced in the Dollar bottomed Wednesday some $15 below an overnight attempt on 6-year highs above $1550, its 3rd in 2 weeks.
Silver meantime held yesterday's late break of $19 per ounce, the highest price since October 2016 in US Dollar terms, and peaking nearly 60 cents above that level in early Asian trade Wednesday.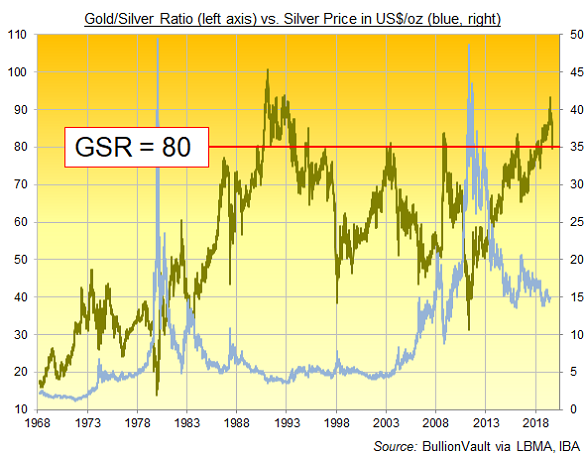 "The long-term average for the silver-gold ratio is around the 55:1 level," says Ajay Kedia, director of Kedia Commodities in Mumbai, speaking to the Business Standard.
"Silver is catching up here," agrees Canadian brokerage TD Securities' Bart Melek, speaking to Kitco News.
"You would expect silver to outperform gold," said Melek – winner of the LBMA's 2017 gold forecasting competition – "given the fact that it has double the volatility of gold."
That repeats comments Melek made in
his 2018 price forecast
, but the Gold/Silver Ratio in contrast rose last year from 78 to break 85 for the first time since 1995.
Specialist analysts Metals Focus forecast in mid-August that "we could see a test of the $19 mark in early 2020" because despite the US-China trade war, silver's "core" industrial demand is set for "further growth this year to a new record."
US President Donald Trump yesterday claimed that his import tariffs on Chinese goods
are hurting the world's No.2 economy
, but US manufacturers last month told the Institute for Supply Management that activity across the sector fell for the first time in 3 years, with new orders, prices and employment all contracting in August.
Over on the FX market Wednesday, the Euro rallied from its weakest Dollar value since May 2017 – down 5.5% from this time last year – after new data put retail sales and service-sector activity both stronger than expected across the 19-nation single currency bloc.
That saw the gold price in Euros dip below €1394 per ounce – down €20 from Tuesday's jump to new all-time highs.
Eurozone equities rose while Euro government bond prices eased back, edging borrowing costs higher, for everyone but Italy – where newly-recalled Prime Minister Giuseppe
Conte today chose the key staff
in Rome's new Five-Star and Democratic Party coalition,
lambasted on social media
by ousted right-wing deputy Matteo Salvini of the Lega party – and Greece, after current IMF chief Christine Lagarde told politicians in Brussels that Athens' debt reduction program
is too harsh
.
Vowing to keep monetary policy at the European Central Bank "
very accommodative for a long period of time
" if confirmed as Mario Draghi's replacement at the ECB from November, Lagarde said fiscal stimulus is needed across the currency bloc, urging co-ordination between Euro member states "if all the institutions...want to respond to
the threat of populism
."
The British Pound meantime rallied 2.5 cents from yesterday's drop near mid-1980s' lows beneath $1.20 after Conservative leader Boris Johnson lost his first-ever vote as Prime Minister, with the opposition starting moves to outlaw leaving the European Union without a deal on 31st October, backed by 21 Conservative MPs.
Ejecting all those colleagues from his Party – including 2 former finance ministers and 11 other once-senior figures in Conservative administrations – Johnson said he will push for a General Election.
The real score is Bilderberg 2 - People 0

— Manwe (@ManweGwahiri) September 4, 2019
"I don't see," said opposition Labour leader Jeremy Corbyn today after defeating Johnson overnight, "how I can be accused of undermining [the UK's EU] negotiations because there are no negotiations taking place."