No Let Up in Demand to Invest in Gold as ETFs Expand, China-US Trade Expulsions
Wednesday, 2/19/2020 14:08
PRICES to invest in physical gold touched last month's 7-year spike at $1611 per ounce in London trade Wednesday, backing off after setting yet another record in Euro terms as global stock markets, bond yields and commodities rallied from this week's earlier drops so far.
Priced in the Euro, gold bullion today set its 5th new all-time high in 5 sessions, reaching €1491 per ounce.
Bullion in China meantime rose 1.2% to new 7-year highs on the Shanghai Gold Exchange, but the US Dollar-price premium for metal landed in the No.1 gold consumer nation fell towards zero versus London quotes, as the Yuan fell to worse than 7 per USD on the currency market.
Gold futures and options
trading jumped on the Comex derivatives market Tuesday, leaping 73% from the previous session to the highest so far this month.
"There is a lot of stock market money looking for a safe haven and finding it in gold," Bloomberg quotes precious metals trader David Govett at London brokers Marex Spectron.
"There must be a top somewhere, but I don't think we have found it yet."
"The stronger Dollar is not really curbing inflows to gold," adds Stephen Innes at Australian spread-betting brokers Axicorp. "From an inflation perspective, a stronger US Dollar is working against the Federal Reserve's inflation target, and is pointing towards lower interest rates."
Betting on US interest rates now sees
just a 1-in-6 chance
that the Fed will leave its cost of borrowing unchanged by year-end, down from 2-in-5 this time a month ago.
Showing a typically negative correlation of -0.68 with the Dollar's trade-weighted index over the last decade, prices to invest in gold now shows a strongly positive r-coefficient of +0.51 on a 52-week basis.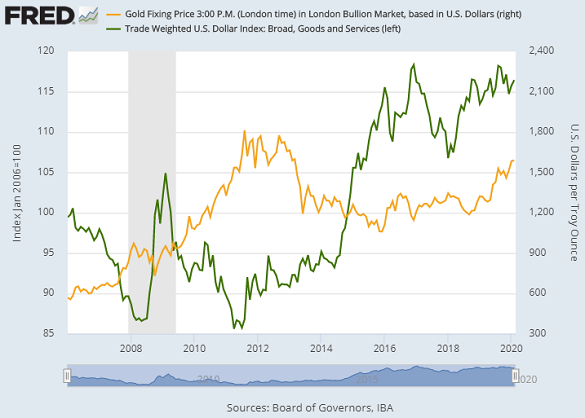 After Japan reported end-GDP shrinking over 6% annualized at the end of 2019, new data from the world's No.3 national economy today showed new machinery orders fell faster in December, while imports sank in January – both before the Covid-2019 virus shutdown activity in neighboring giant China.
US investment bank Morgan Stanley says that economic growth in China – source of one-fifth of global GDP – could slow to 3.5% annualized this quarter,
the worst in 3 decades
, as fewer than half the nation's factories have so far re-opened after last month's Lunar New Year festival.
The Beijing authorities meantime expelled 3 journalists from the Wall Street Journal today, either angered by a WSJ headline calling China "the sick man of Asia" or by Tuesday's designation of 5 Chinese state media outlets as 'foreign government agencies' by the US State Department.
Last month's arrest of Charles Lieber – chairman of Harvard University's chemistry department – for leaking secrets to Beijing "dovetails with Washington's aggressive 'China Initiative'," says the
South China Morning Post
, "which began in 2018 [and now includes a]
'whole of society' counter-intelligence strategy
to further guard against Beijing 'stealing our technology and intellectual property in an effort to erode United States economic and military superiority'," according to the White House.
Acquitted a fortnight ago of impeachment charges by the Senate, Trump yesterday granted clemency to nine US white-collar crime felons variously guilty of theft, fraud and corruption, plus 2 drug dealers.
Most
"spectacular for Wall Street"
, says a senior banker to the
Financial Times
, is the President's pardoning of 'junk bond king' Michael Milken – now deemed "one of America's greatest financiers" by the Trump White House after
pleading guilty in 1990 to "cheating his customers
by overcharging them on bond deals, secretly rigging securities prices, helping his friends cheat on their taxes, mail fraud, securities fraud [and] conspiracy" and paying $600m in personal fines and restitution to his victims – the equivalent of $1.2bn in today's Dollar.
White-collar prosecutions fell in 2019 to the fewest in at least 3 decades, data from Syracuse University's analysis of federal records said,
down 8.5% from the year before
and extending a trend begun during the Obama administration.
Spending $400m on campaign adverts meantime, would-be Democrat presidential hopeful Mike Bloomberg has
jumped into second place
for the party's 2020 election nomination ahead of early March's 'Super Tuesday' voting.