ETF Gold Investing Slips as G20 Sees US-China Argue Over 'Superpower Status', Putin Declares 'Liberalism Obsolete'
Friday, 6/28/2019 13:57
PRICES to invest in gold fell back from an overnight rally Friday morning in London, trading at $1413 for a 0.9% weekly gain as global stock markets rose but showed a slight decline for the week as the G20 group of world leaders met in Osaka, Japan.
Friday's retreat still put gold prices on track for their 6th strongest monthly gain of the last decade for anyone choosing to invest with US Dollars, up 8.3% for June 2019.
"It's a convincing break-out showing a macro regime shift," says Nicky Shiels of Canadian dealers Scotiabank.
"Global central banks are moving from a dovish stance to a super-dovish stance."
"The sustained decline in rates is a key factor [for gold's price jump]," agrees a note from Swiss financial services giant and bullion bank UBS, "particularly as the Fed shifts to a more dovish stance."
Raising UBS's end-September price target from $1380 to $1430 – almost $10 shy of Tuesday's peak –"Uncertainty around growth and trade risks suggests more strategic positions are likely to be built," the note adds.
Gold investment however showed a small outflow Thursday from the 7 largest US-listed
gold ETFs
as a group, with the giant GLD shrinking 0.3% while No.2 the IAU grew 0.4% on the day.
Together those gold ETFs have swollen by 5.5% in June, the heaviest 1-month growth since the UK's shock Brexit referendum result of mid-2016.
Their aggregate bullion backing however, needed to back the value of their shares in issue, have only reached the largest since New Year 2019 levels at 1,228 tonnes.
Last time prices to invest in gold bullion ended a calendar month near $1400 per ounce, back on August 2013's bear-market bounce from the metal's sharpest plunge in 3 decades, the largest US gold ETFs were almost exactly the same size as today, needing 1,234 tonnes of backing.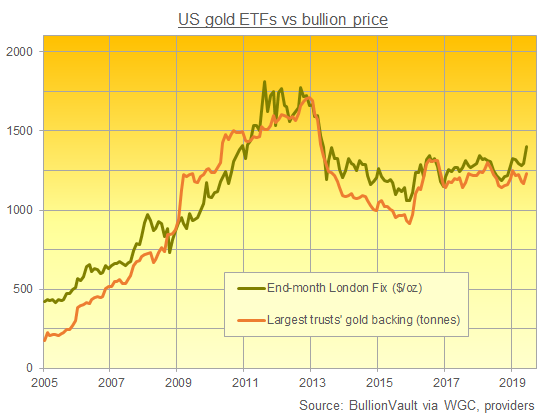 "Doubts about the success of the meeting between [US President Trump and China's President Xi] have been
weighing on risk assets
, reckons German analyst Peter Fertig at Quantitative Commodity Research.
"That is positive for gold [investing]."
Crude oil meantime rose 2.2% from last week's finish, while Western government bond prices paused after this month's surge, holding longer-term interest rates down near this week's new multi-year and record lows.
Back at the G20, "China's utmost sincerity" in trade talks so far, says Beijing's state news agency, "seems to have only prompted some
trade hawks in Washington to press their luck
...[because] some ultra-conservative US decision-makers have for many years seen in China a 'threat' to Washington's sole superpower status."
"China's efforts to undermine democracy are expanding worldwide," counters the
Washington Post
, quoting a report from Republican think-tank IRI saying that, after examining Beijing's strategy in 13 countries, it believes China's foreign policy "now represents a clear and significant
threat to US strategic and economic interests
."
The US President meantime joked to Russia's President Putin this morning
about Moscow meddling
in next year's White House election.
"Every crime must have its punishment," Putin yesterday told the
Financial Times
in his first sit-down interview with a UK journalist
in 10 years
, commenting not on the Salisbury poisonings but on what he called
Western Europe's "cardinal mistake" in accepting refugees
from the Syrian war and apparently letting them "kill, plunder and rape with impunity because their rights as migrants have to be protected.
"[That] liberal idea has become obsolete. It has come into conflict with the interests of the overwhelming majority of the [Western] population."