India 'Should Appropriate Gold' to Fund Virus Stimulus Worth 10% of GDP
Thursday, 5/14/2020 13:30
GOLD PRICES held firm against most major currencies in London trade Thursday, retaining yesterday's gains as a political storm grew in India over rumors and calls for privately-owned gold to be used to help finance the No.2 gold consumer nation's massive Coronavirus stimulus.
Cutting tax and raising spending, the stimulus package equates to $226 billion, some 10% of India's economic output.
To help finance the package, "The government is working on a series of measures, including using household gold and foreign exchange reserves as collateral to print more currency," claims the Business Standard, citing sources "close to the development.
"The government is likely to purchase gold from households without seeking [to know] the source,"
it goes on
– a big departure from the BJP administration of Narendra Modi's push for tax and transparency.
With next to no domestic mine output, India's private households may have some 22,000 to 25,000 tonnes of gold between them, perhaps 1 in every 8 ounces ever mined in history and built over at least 2 millennia as
the 'sink of the world'
for bullion.
But India's private demand – at least on visible data for legal flows – has fallen since 2012 into second place behind China thanks to a series of anti-gold measures imposed to stem outflows of foreign currency.
The resulting surge in illegal gold flows to India have only worsened, analysts believe, as Modi's BJP government has raised gold bullion import duty and imposed further tax and reporting requirements on the jewelry sector.
"This planned move," claims the Business Standard, "will ensure that the newly minted currency does not put any pressure on the fiscal situation, the sources said. Also, sovereign ratings will not be impacted owing to the presence of collaterals."
Domestic bullion prices "skidded" on Tuesday's stimulus announcement, says the Economic Times, holding at a steep discount to global prices – now at all-time record highs in Rupee terms – as supplies continue to outweigh demand.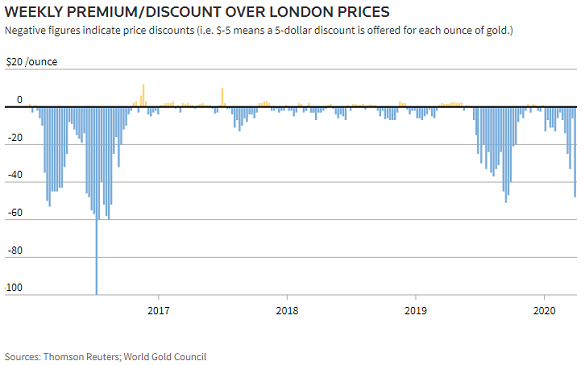 Opposition Congress Party politician and former Minister for State Prithviraj Chavan meantime
ignited a row with India's temple adminstrators
overnight by tweeting a call for the government to "appropriate" religious gold donations to help finance the stimulus.
Misquoting research from the mining industry's World Gold Council, Chavan claimed that India's temples hold some $1 trillion of gold – more than 4 times the actual estimate.
"Before taking gold from Hindu temples,"
said one irate swami on Thursday
in response to Chavan's tweet, "money should be taken to combat Coronavirus from Congress leaders who have amassed huge wealth since independence."
Gold priced in the US Dollar meantime held around 1-week highs at $1715 per ounce, and set new all-time British Pound records at £1410.