Gold Prices Slip as Central-Bank Turmoil Hits No.5 Consumer Turkey
Monday, 3/22/2021 13:25
GOLD PRICES slipped Monday morning in London, defying last week's expansion in gold ETFs and a bullish turn in hedge funds betting on the metal, as the central-bank chief of No.5 gold-consumer nation Turkey was replaced with a critic of high interest rates, writes Atsuko Whitehouse at BullionVault.
Spot gold prices dipped as much as 1% at the beginning of London trade to touch $1727 per ounce, paring most of last week's gains.
"Gold and especially silver and platinum have all started the week on a sour note in Asia, and without any trigger apart from a slightly stronger Dollar due to Turkish currency turmoil," says derivatives platform Saxo Bank's commodity strategist Ole Hansen.
Silver prices
fell 3% to $25.43 per ounce, pushing
the Gold/Silver Ratio
of the 2 former monetary metals up above 67, the highest in one month, while platinum dropped 2.5% to $1168 per ounce.
The Dollar Index, which tracks the greenback against a basket of six other major currencies, strengthened as the Turkish Lira tumbled as much as 14% following President Recep Tayyip Erdoğan sacking the third central-bank chief in two years.
Saturday's removal of Naci Ağbal, who helped the Lira to be the
best performing emerging market currency of 2021
after having plummeted to a historic low, push the country's stock market under intense pressure with the benchmark Borsa Istanbul 100 index sinking more than 9%.
The Lira had recovered almost a fifth from around 8.58 to the US Dollar since Ağbal's appointment.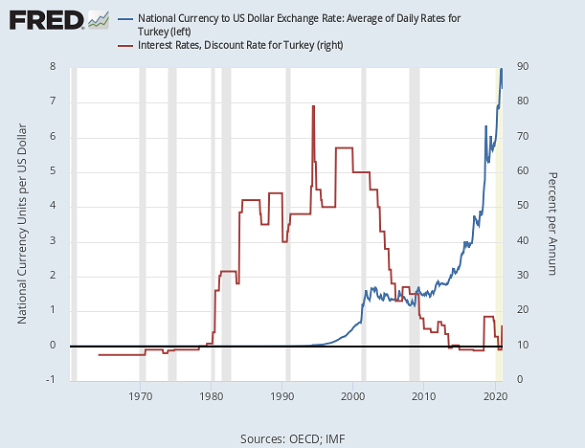 The decision came only days after Ağbal announced a sharp rise in interest rates to combat rising inflation.
Erdoğan has now appointed Şahap Kavcıoğlu, a ruling-party lawmaker who has argued for lower interest rates.
"There is now a very real chance that Turkey is heading for a messy balance of payments crisis," Jason Tuvey, analyst at Capital Economics, wrote in a note.
The slump in Turkey's Lira was blamed for pushing European stocks lower Monday morning from last week's 1-year high, as concerns over extended anti-Covid lockdowns also hit Germany.
The pan-European Stoxx 600 however pared its 0.5% drop by lunchtime, even as the European Union agreed to sanction China for human right abuses against the Uyghurs in the country's north-western Xinjiang province.
Longer-term Western world interest rates meantime eased lower, with the 10-year US Treasury rate retreating to 1.68% from its highest levels in 14 months on Friday.
The Federal Reserve will provide monetary stimulus
"for as long as it takes"
said Fed chairman Jerome Powell to the
Wall Street Journal
.
"The US economy is set for a strong 2021 as the pandemic recedes," Richmond Fed President Thomas Barkin also said, "[and while] that will push up prices, there's no sign yet that this will deliver unwanted inflation."
Powell is scheduled to speak at a BIS conference today as well as to testify before the House of Representatives Financial Services Committee on Tuesday, and before the Senate Banking Committee on Wednesday.
Ahead of Monday's price drop,
gold-backed ETF trust funds
expanded on Friday, snapping an extended run of investor outflows with both the SPDR Gold Trust (NYSEArca: GLD) and the iShares gold ETF (NYSEArca: IAU) growing in size.
iShares' giant silver ETF trust (NYSEArca: SLV) meantime continued to shrink Friday however, marking its 6th consecutive weekly liquidation, back to the size of the first
'Reddit Ramp' inflow at end-January
.
Hedge funds and other leveraged speculators in Comex gold futures and options meantime expanded their bullish betting for the first time in 7 weeks on the latest data, and cut their bearish betting as a group for the first time in 3 weeks.
Speculators however grew their net bearish betting against silver to the biggest before the Reddit Ramp, according to the data published by US regulator the Commodities Futures Trading Commission (CFTC).