Gold Trading Evaporates as 'Bond Yield Jump' Risks $150 Price Drop
Tuesday, 11/05/2019 13:56
GOLD TRADING in London saw prices briefly dip to $1500 per ounce on Tuesday, falling with major government bond prices as world stock markets rose following Wall Street's latest record highs.
With gold trading 1.0% lower for the week so far in US Dollar terms – and $57 below start-September's 6-year high – silver dipped below $18.00 and platinum prices also fell to 3-session lows at $927 per ounce.
The drop in Western government bond prices drove their longer-term borrowing costs higher, extending
yesterday's jump in US 10-year and 30-year yields
after US Commerce Secretary Wilbur Ross said a trade deal with China may be near while tariffs set to hit European imports could be waived.
Treasury yields will now "grind higher" as stock markets continue to gain reckons US investment bank J.P.Morgan, calling the US Federal Reserve's run of 3 rate cuts in 2019 only a "mid-cycle" move and forecasting a replay of the 1995 action as stock and bond markets re-price solid economic growth and a return to rate hikes.
"This implies modest 5% or so upside for equities over the next six months [but a] very big 100 basis point upside in the 10-year US Treasury yield," says JPM strategist Nikolaos Panigirtzoglou.
The last time that 10-year US Treasury yields rose 1 percentage point or more in 6 months, from mid-2016 to New Year 2017, the price of gold lost over $150 per ounce.
In proportionate terms, such a rise in 10-year T-bond yields – up by more than one-half from today's near-record lows at 1.75% per annum – has happened only 3 times before, all of them since the collapse in rates and yields of 2008 amid the global financial crisis.
The gold price on average lost 6.7%.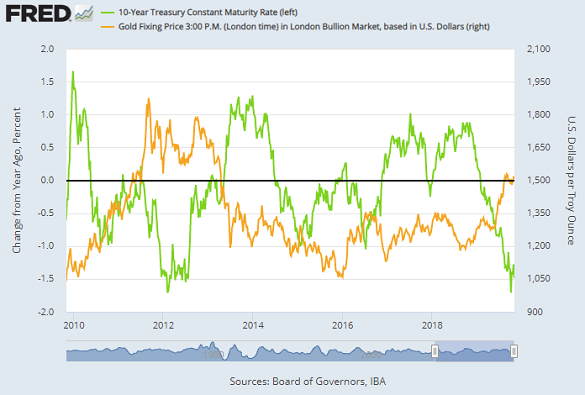 Back in this wek's action, gold trading volumes on the Comex futures exchange shrank by nearly one-third Monday from Friday's level, reaching the smallest daily total in 8 weeks.
The giant SPDR Gold Trust (NYSEArca: GLD) meantime held unchanged in size yesterday, needing the same quantity of gold to back its exchange-traded shares as it did 6 weeks ago.
New York's No.2
gold ETF
– the cheaper iShares product (NYSEArca: IAU) – meantime shrank 0.02%, recording its first net outflow since 10 September.
Premiums for bullion landed in China – the world's No.1 consumer market – edged up to $6.20 per ounce over London quotes, but still offered one-third less incentive for new imports than the historic average.
"A lack of appetite among Chinese and Indian buyers, facing multi-year high prices in local currency terms, is
the most likely candidate for gold failing
to extend its rally," reckons Thomson Reuters' columnist Clyde Russell.
Ahead of last week's crucial Diwali festival, demand for gold in No.2 consumer India fell in July to September to "one of the lowest" third-quarter total since 2005 according to data from consultancy Metals Focus, reported by Bloomberg today, as Rupee gold prices traded up to new all-time record highs.
The UK gold price in Pounds per ounce today
retreated £10 for the week so far meantime at £1160, as new data said the country's services sector "stagnated" with zero growth in October and the British public were treated to more political promises and pitches for the snap 'Brexit' election called for 12 December.
Gold held slightly firmer against the Euro, drifting 0.7% to €1347 per ounce.