Gold Trading Caution Advised Before US Fed Rates Decision, Bond Yields Bounce from ECB Stimulus Slump
Wednesday, 6/19/2019 14:00
GOLD TRADING in London's wholesale market saw prices hold flat ahead of the US Fed's interest-rate decision for June on Wednesday, while Western stock markets slipped back from yesterday's jump and bond yields bounced from their collapse to multi-year and new all-time lows.
Ten-year US Treasury yields added 7 basis points from Tuesday's new 2.5-year low of 2.02%, while 10-year German Bund yields rose 3bps from yesterday's fresh negative record of -0.32% per annum, hit after Eurozone central-bank chief Mario Draghi said the ECB is
about to restart monetary stimulus
for the 19-nation currency bloc.
Asian stock markets meantime rose sharply after Wall Street closed higher, but European equities struggled ahead of today's key decision on US interest rates from the Federal Reserve.
Barely 75% of betting on today's Fed decision sees it keeping rates at the current ceiling of 2.5% rather than cutting, down from 90% this time a month ago.
Betting that the Fed won't cut rates by New Year 2020 has meantime shrunk by nine-tenths, sinking to a chance of just 2.4% according to
the CME's Fedwatch tool
.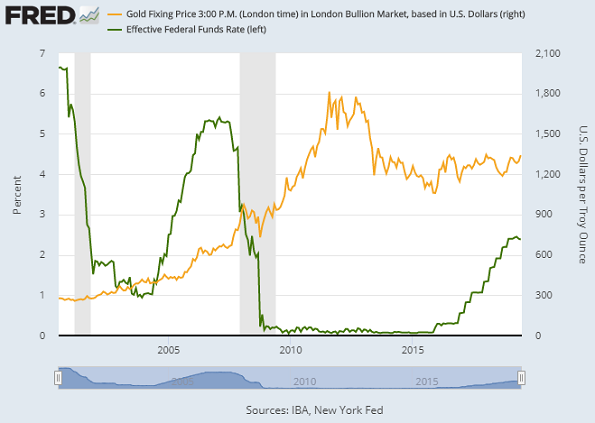 "We urge investors to temper bullish expectations on gold," says a note from Singapore brokerage Philip Futures, "[because] an improvement in risk appetite from dovish monetary policy
will cap gains
for the non-interest bearing asset."
"Put skew, or the premium an investor wants to pay for bearish exposure, is nearing 5-year lows [whereas] call skew remains rich as investors pay for upside exposure."
Trading volumes in
Comex gold futures
and options contracts yesterday set their 4th highest total so far this month, with traders pushing bets on end-year bullion prices up to $1362 per ounce.
Wednesday's gold trading action was subdued, keeping Dollar bullion prices in a tight range above last week's finish at $1341 – the highest Friday finish since February 2018.
Euro gold prices briefly dipped back below €1200 after touching new 26-month highs on Draghi's comments.
Trading in the giant SPDR Gold Trust (NYSEArca: GLD) left the world's largest
gold ETF
unchanged in size overnight, needing a 2-month high of 764 tonnes to back the number of shares in issue.
Silver today flicked around the $15.00 mark, a 5-week high when reached a fortnight ago.
Platinum also traded slightly higher, edging near $805 per ounce for a 6.5% rally off summer 2018's 15-year lows.
Elsewhere in the bullion market, major global tech firms Apple, Canon and Nokia today said they are reviewing their gold supply chains after the UK's Guardian newspaper reported claims of environmental damage and violence at the North Mara mining project in Tanzania owned by Barrick Gold (NYSE: GOLD) and operated by Acacia (LON: ACA).
"Right now responsible sourcing is clearly part of the cost of doing business. It's part of the commercial need of a company to access markets and financing, among others," said Tyler Gillard, due diligence expert from the OECD.
"We are not aware of any relationship between human rights abuse mining in Tanzania and [our bars]," said MMTC-PAMP, the refining joint-venture between India's government and Switzerland's MKS Pamp.
Barrick meantime let a deadline for making a formal bid to buy Acacia lapse on Tuesday, with a new deadline now set for 9 July.
"Acacia's ongoing dispute with the Government of Tanzania has made it impossible for the miner to function as an independent public company,"
Reuters quotes
the London-listed miner's would-be buyer.