Gold 'Under-Priced' as Biden's Borrowing Binge Spurs Taper Talk But Covid Crisis 'May Need Negative Rates'
Tuesday, 1/12/2021 14:54
GOLD PRICES fell back again in London trade Tuesday, retreating $20 from a rally to $1863 per ounce before steadying as Western stock markets fell once more against a backdrop of worsening Covid infection and death rates, supply-chain issues with mass vaccinations, but also a rise in longer-term interest rates in the bond market ahead of the "trillions" in new borrowing due from incoming US President Joe Biden's spending plans.
Crude oil rose to new 10-month highs above $56 per barrel of European benchmark Brent and copper neared last week's 7-year highs at the London Metal Exchange.
Following last Wednesday's violent attack on the US Congress by a mob backing Donald Trump,
a 'source' at the FBI warned
of further protests and terrorism by pro-Trump supporters at next week's inauguration of Biden as President.
On top of the $900 billion Covid relief bill approved last month, Biden's winning campaign promised to cancel up to $10,000 of student debt per borrower – a total cost of $300bn – and his first proposal to the new 'blue sweep' Congress and Senate
will call for another round of stimulus checks
worth $2,000 plus doubling the minimum wage to $15 per hour.
"You're looking at a second half [of 2021] that is going to be very strong [economically]," said Federal Reserve policymaker Thomas Barkin of the Richmond Fed yesterday.
"I'm open to" tapering
the current $120bn of monthly bond buying from late-2021, said Atlanta Fed President Raphael Bostic separately.
Following the global financial crisis,
taper talk in early 2013
coincided with a sharp rise in US bond yields and the steepest crash in gold prices for 3 decades.
All major Western government bond yields rose again Tuesday, with the 10-year US Treasury offering as much as 1.16% per annum before inflation – the most since the Covid Crisis began last March.
Last time 10-year bond yields were above 1.0%, break-even inflation rates – as implied by bond market prices – traded at 1.5% and gold was more than 1/10th cheaper at $1650 per ounce.
Ten-year breakevens today touched 2.10%, the highest such pace of implied inflation since October 2018.
Ten-year yields were then over 1.0% higher however at 3.2% per annum. Real rates today traded at minus 0.94%.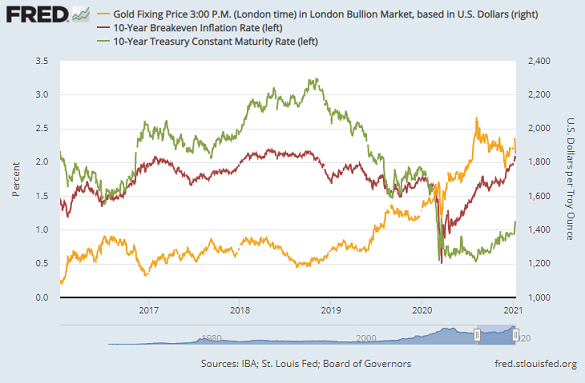 "With the Fed targeting an average inflation rate of 2% and potentially prepared to see nominal inflation reach 2.5% in order to achieve that average," says brokerage StoneX's precious metals expert Rhona O'Connell, "rates will remain lower for longer.
"That set of circumstances argues in gold's favour for the next few months at least."
Today however "gold [is] still hampered by the recent rise in US yields," says a note from the precious metals team at French bank BNP Paribas.
Quoting analysis from the London bullion market-maker's 'Macro Quant' team, "The recent drop in the gold price does not reflect the moves seen in other markets," BNP explains, "triggering another buy signal.
"[This] is further strengthened by investors' positioning across major commodities" in the futures and options market, where BNP's quantitative analysis "offers a perspective of significant potential" growth in betting on gold prices to rise, as their model "suggests that gold is ripe for strong gains as positioning in gold appear light."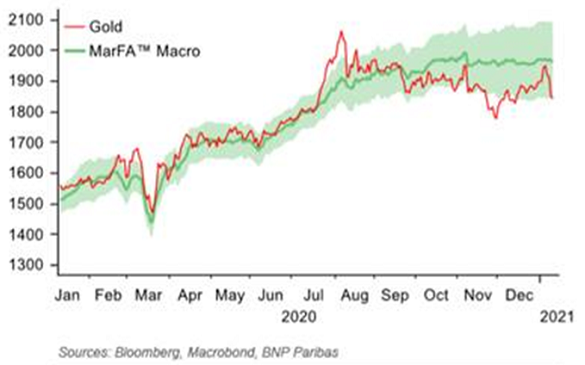 "Because, unfortunately,
we expect unemployment to rise
once the furlough [income support] schemes are wound down" by Government, said Bank of England deputy governor Ben Broadbent in a speech online today, "the appropriate response has been to ease [rates and QE] significantly.
"[We] would need firm evidence of a significant narrowing in [UK] spare capacity, and of a sustainable return of inflation to the 2% target, before considering whether to withdraw any of this stimulus."
"If that is the case, having negative rates in our toolbox" – a policy already applied by Japan, Switzerland, Denmark and the 19-nation Eurozone – "will in my view be important."
"Gold looks underpriced at current levels," Reuters quotes an economist at Singapore's OCBC Bank.
"The new virus strain reminds us of the fact that 2021 may not be materially different from 2020 if the world doesn't get the vaccine fast enough."