Gold and Silver Prices Jump After ETF Investment Surge as Bond Yields Drop on Slower Inflation
Friday, 7/19/2019 13:10
GOLD and SILVER PRICES spiked overnight in Asia trade on Friday as US President Trump claimed that a US Navy assault ship had shot down an Iranian drone threatening to attack it.
Gold then eased back $15 in London business, retreating from its new 6-year Dollar high of $1452 to show a 1.6% gain for the week.
Silver in contrast held onto its overnight jump, extending its gains for the week to 7.1% at $16.30 – near its highest in 13 months.
Asian stock markets rallied to close the week unchanged but European equities struggled – and Euro government bond yields fell – after new inflation data from Germany said factory prices fell sharply last month from May.
Japan's inflation figures also missed analyst forecasts, slowing to 0.5% annual growth in consumer prices – the weakest in almost 2 years when fuel and food costs are excluded.
Both Japanese and German bond yields fell on Friday's news, nearing their recent 3-year and new all-time negative lows respectively at -0.15% and -0.35% per annum, effectively costing investors to lend to Tokyo or Berlin.
"Tumbling bond yields kindle investor demand for gold," reports the
Financial Times
, quoting "billionaire hedge fund founder" Ray Dalio, who said earlier this week that investing in gold "would be
both risk-reducing and return-enhancing
" as the real rate of interest – after you account for inflation in the cost of living – falls below zero.
"To me, it seems obvious that [central banks] have to help debtors relative to creditors...Monetizations of debt and currency depreciations will eventually pick up, reduce the value of money...and test how far creditors will let central banks go in providing negative real returns before moving into other assets."
Thursday saw the heaviest inflow of investor cash in almost a month to world-leading gold-backed trust fund the SPDR Gold product (NYSEArca: GLD).
Looking at US Treasury bond yields, 5-year real rates – adjusted for inflation forecasts – show a stronger relationship than do 10-year real rates with both US Dollar gold prices and the size of US
gold-backed ETF trust funds
.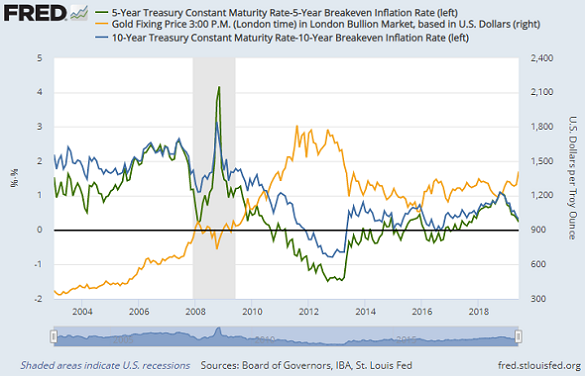 Silver's largest exchange-traded trust fund, the $5bn iShares Silver Trust (NYSEArca: SLV), yesterday saw its heaviest 1-day inflow of investor cash in more than 6.5 years according to Bloomberg data.
"Silver is often used as a high-volatility play on gold," says the news-wire.
"With a correlation of 0.8 and a beta of 1.3 over the past decade, it allows investors to increase expected returns without using leverage."
"A move in the gold:silver ratio in favour of the latter would likely imply increasing conviction on gold's upside prospects," says a note from strategist Joni Teves at Swiss bullion bank UBS, "[as] investors start to become comfortable expressing this through silver positions.
"However, we expect that a positive outlook on gold will remain the key driver for silver upside...given downside risks to global growth and in turn silver fundamental demand."
Euro gold prices spiked to €1288 – the highest since December 2012 – before easing 0.6% lower.