Gold and Silver Rally as Core Inflation Slows, Trump Turns Fire on China and Europe Over Trade
Wednesday, 11/13/2019 13:46
GOLD and SILVER PRICES both rallied against a falling US Dollar in London trade Wednesday, rising above last weekend's levels as new inflation data came in weaker than expected.
World stock markets meantime retreated from near-record highs following a new attack on China's and European trade policies from US President Donald Trump.
"I tell it to everybody: If we don't make a deal [with China], we're going to
substantially raise those tariffs
, they are going to be raised very substantially," the celebrity real-estate mogul told the Economics Club of New York.
"European Union? Very, very difficult," he went on. "The barriers they have up are terrible, terrible. In many ways, worse than China."
Major government bond prices rose as gold added $20 per ounce from yesterday's fresh 3-month low of $1445, pushing yields further down from Friday's multi-month highs.
Inflation in US consumer prices accelerated one tick to 1.8% per year last month, the
Bureau of Labor Statistics said Wednesday
, but the 'core' cost of living slowed to 2.3% annual growth when volatile fuel and food items are excluded.
Commodity prices also fell with world stock markets Wednesday, extending their drop to 3-week lows on the Bloomberg index.
Silver prices rose Wednesday however, briefly touching $17 per ounce for the first time this week, a 15-month high when first reached in August.
That capped
the Gold/Silver Ratio
of the 2 precious metals' prices below 87, the 10-week high reached on last Friday's sharp drop in all bullion markets.
Over the last half century, the gold price has averaged 56 times the price of silver, rising to a ratio of 67 across the last 10 years.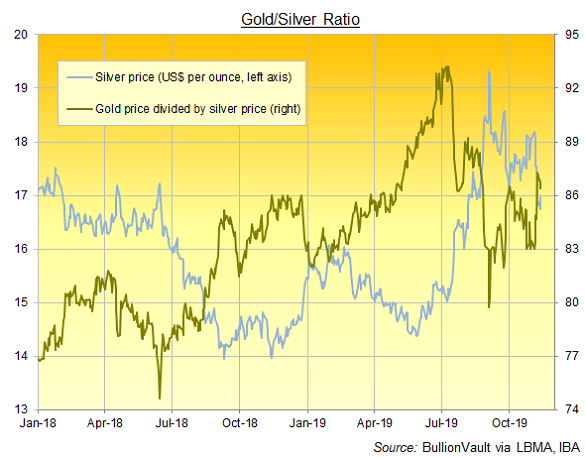 With gold prices tumbling over the last week on "record US equities and improving Treasury yields," says the latest analysis from independent consultancy
Metals Focus
, "the Gold:Silver Ratio is likely to remain elevated for some time to come."
While "considerably short" of July's multi-decade high above 93, says Metals Focus, the ratio has risen on the retreat in speculative silver trading which spiked during the third quarter of 2019.
"The
silver price
will still rely on positive spill-overs from gold to move higher," the consultancy goes on, warning that gold prices may now face headwinds from the wider financial market's "risk on" attitude if the US and China can make progress in their trade talks.
"[But] despite near-record ETP holdings [for silver trust funds] and high net longs on Comex [from speculative traders], the value of these positions remain well below their previous peak," says Metals Focus.
"This all suggests there is plenty of room for these holdings to grow further."
Tuesday saw the silver market's largest ETF, the iShares Trust (NYSEArca: SLV), hold unchanged in size near all-time records.
The largest
gold-backed ETF
– the SPDR Gold Trust (NYSEArca: GLD) – shrank in contrast, now needing fewer than 900 tonnes of bullion to support its stockmarket value, the smallest in 7 weeks.
UK inflation meantime showed its weakest reading since the aftermath of 2016's Brexit referendum,
slowing to 1.5% per year in October
thanks to a sharp drop in energy prices imposed by regulator Ofgem.
Input prices for manufacturers
meantime fell 5.1% per year, the UK's official data agency said, led by crude oil's retreat and the sharpest deflation in 3.5 years.
Trump also attacked the US Fed once again in Tuesday's speech, saying its failure to re-start QE or cut interest rates more aggressively puts the world's largest economy "at a competitive disadvantage" compared the Eurozone, where commercial bank rates are now negative.
"Give some of that money, I want some of that money."