Gold and Silver Prices Shrug Off Rising Real Rates as Mining M&A Activity Returns
Tuesday, 10/06/2020 13:47
GOLD and SILVER held onto yesterday's gains in London trade Tuesday, consolidating as news of mergers and acquisition activity among mining companies continued to accelerate.
Tuesday's strength in gold and silver came even while world stock markets rose alongside longer-term interest rates as Donald Trump returned to the White House – and immediately removed his facemask – after being treated and released from hospital for Covid-19,
a move seized upon
by the Republican President's Democrat opponent in next month's election, Joe Biden.
Judged against bond-market forcasts for inflation, real 10-year Treasury yields rose to -0.92% per annum, the least negative since gold prices suffered their
3rd steepest weekly plunge
of the last 5 years in late-September.
Then bottoming at $1850 per ounce, gold prices today in contrast held above $1913.
Silver prices
have meantime rallied nearly $3 per ounce since then, holding above $24.40 since lunchtime Monday in London.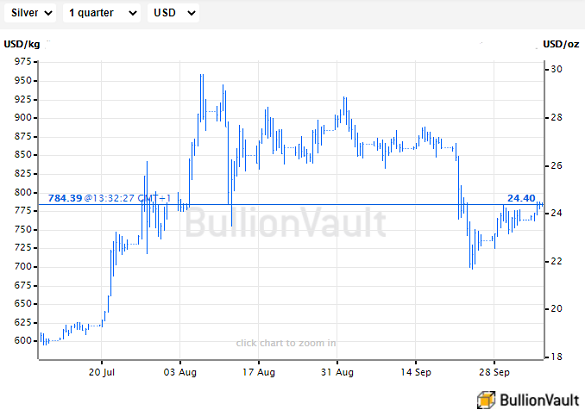 "The metals are rangebound in Asia with China still out for Golden Week," said an overnight trading note from Swiss refiners and finance group MKS Pamp.
"India's gold demand has started to pick up at long last ahead of Diwali (mid-November)," says brokerage StoneX's chief analyst Rhona O'Connell.
"Covid cases have dropped for two consecutive weeks [and] inflation for industrial workers has risen towards 6%, the upper band of the Reserve Bank's target, but the bank is reluctant to raise rates and is more likely to continue injecting funds."
Shares in both NST and SAR rose 10% on the Australian Stock Exchange, rising back towards early August's record highs.
World No.6 gold miner Newcrest (ASX: NCM) meantime held flat, down 15% from August's 11-month high, after it
gained approval to add Toronto
as a stock-market listing alongside its Australian base.
"Western Australia remains No.1 jurisdiction for gold [M&A] deals," says consultancy Refinitiv, "but
miners began working
into underfollowed regions in Q3 including Nevada, Newfoundland & Mexico."
Mexico now has a special security force, reports
El Financiero
, with 118 guards trained and armed to protect mostly foreign-owned gold and silver mining projects from
rising attacks, thefts and extortion
by the No.1 silver producing nation's illegal drugs cartels.
Shares in Gold Resource Corporation (NYSEAmerican: GORO) slipped 7% on Monday after the $230m miner said it plans to spin-off its Nevada Mining Unit to shareholders as a separate, publicly-traded company.
Canadian explorer Labrador Gold (CVE: LAB) in contrast rose 5% yesterday after saying its team "anticipate
a lot more significant results
to come" from soil samples at its Kingsway Project in Newfoundland's Central Zone.
In the wider stock market on Tuesday, Asian and European equities rose after New York's major indices gained once again overnight, helping the MSCI World Index rise above 2,400 – a new record when first reached in January – for the third time this year.
Both gold and silver meantime showed small gains for the week so far in Euro and Sterling terms as UK Prime Minister Boris Johnson was urged by anonymous European Union officials briefing London media to
"pick up the phone" and stop being "absent"
from negotiations for a last-minute Brexit trade deal ahead of the UK's final exit from the EU at end-December.