Gold Steady as Record Silver ETF Surge Sends Price to 13-Month Highs as Geopolitical Tensions Worsen
Wednesday, 7/24/2019 14:32
GOLD PRICES rose back to last week's closing level of $1425 per ounce for US investors on Wednesday while silver held onto its jump to 13-month highs despite more weak economic data worldwide.
After Tuesday showed US sales of new homes badly missing analyst forecasts, Germany's latest manufacturing survey
also came in well below expectations
, with the first flash Market PMI for July reading just 43.1 – the worst rate of contraction since 2012.
Stock markets rose everywhere except London however, where the FTSE100 of mostly global corporations shed nearly 1% as the Pound regained 0.3 cents of the last 3 months' 3-cent drop as Brexit campaigner Boris Johnson prepared to move into 10 Downing Street as Prime Minister.
"A fairly robust session for gold during Asian trade on Wednesday," says Swiss refining and finance group MKS Pamp in a trading note, but "silver [really] continues to see positioning [by speculators] increase, both from additions to longs and from cuts to short positions.
"ETF inflows of the grey metal also remain robust to further to underpin recent price action."
While US
gold ETFs
saw a small outflow of investor cash on Tuesday, the giant iShares Silver product (NYSEArca: SLV) – the largest silver bullion backed trust – yesterday led a surge to all-time record levels in the size of silver ETFs, reaching above 20,721 tonnes on
Reuters' calculation
and above 18,315 tonnes according to Bloomberg's.
That equates to around 70% of
annual world silver mine output
, now roughly the same proportion as gold ETF products hold compared to the dearer metal's annual mine output.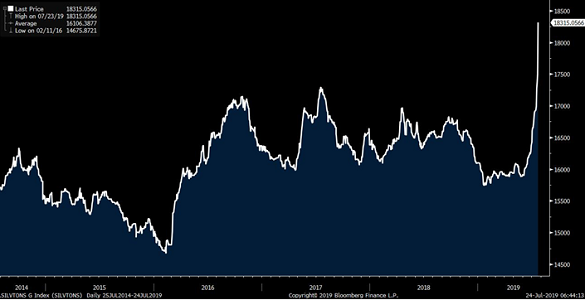 "The silver market is clearly in overbought territory," says a client note from Rhona O'Connell at brokerage INTL FC Stone, "but with gold looking technically robust this may lead to consolidation for silver."
Silver bullion prices have now added 9.2% in US Dollar terms since the start of last week.
With the British Pound still near 2-year lows beneath $1.25 meantime, and with UK gold prices in Pounds per ounce less than 5% off September 2011's all-time peak at £1195, the new Johnson administration's cost of borrowing today held near 3-year lows beneath 0.7% on 10-year UK Gilt yields.
US borrowing costs also eased lower as bond prices rose following Monday's deal in the US Congress
agreeing a new 2-year budget
with the Trump White House, delaying any threat of America's national borrowing hitting the "debt ceiling" until mid-2021.
After the International Monetary Fund yesterday cut its global GDP growth forecasts, Beijing's government news agency
today rebuked the United States
by quoting the IMF as saying that "Countries should not use tariffs to target bilateral trade balances or as a substitute for dialogue to pressure others for reforms."
"Tax cuts could support economic growth in China,
even if trade tensions do not improve
," reckons investment bank China International Capital Corporation's chief economist Liang Hong, speaking to CNBC.
South Korea's foreign ministry today accused Moscow of "
distorting the facts
" after yesterday summoning the Russian ambassador to lodge a strong protest over
violation of its airspace
by military planes near the disputed Dokdo Islands in the East China Sea.
Korea-Japan tensions have
worsened markedly in recent months
as the slowdown in global trade spurred by the US-China dispute has coincided with demands for reparations over Imperial Japan's invasion and pillage of Manchuria in WW2.
Preparing in London to meet the Queen and form a government, the UK's Johnson was
rumored to be appointing
Vote Leave campaign chief Dominic Cummings as an advisor at Number 10.
Military chiefs from the UK are meantime set to meet with US and other counterparts in Florida to
discuss an allied response to Iran
's seizure of a British-flagged oil tanker in the Persian Gulf.
Silver finds over three-fifths of its annual demand from industrial use, versus barely 10% for gold.