Gold and Silver Drop to Pre-SVB Prices as Tech Stocks Shrug Off Fed Rates, Debt Ceiling
Friday, 5/26/2023 12:19
GOLD and SILVER PRICES bounced Friday as the Dollar paused its strong rise on the currency market, but both precious metals headed for their lowest weekly close since the collapse of Silicon Valley Bank in mid-March as global stock markets extended their gains despite the outlook for Federal Reserve interest-rate hikes and the USA's ongoing debt-ceiling debacle.
Rallying over $10 from yesterday's spot-market dip through $1940 against the Dollar, the price of gold in Euro terms was little changed from last Friday at €1818 while
the UK gold price in Pounds per ounce
was also flat for the week at £1577.
Silver prices
meantime rallied 50 cents from Thursday's new 9-week low, trading at $23.13 around the industrially-useful precious metal's benchmark London auction at midday.
"Higher interest rates AND the market pricing in further Fed HIKES into a debt ceiling debacle is just insanity," says Swiss bullion refining and finance group
MKS Pamp
's strategist Nicky Shiels.
"But the Fed will continue to hike until they break what they want to break – unemployment [so as to reduce inflation] – [and] they hiked into [late-March's US regional] banking crisis, so what's different to hiking into a debt ceiling crisis?
After credit ratings agency S&P downgraded the USA from triple-A amid the summer 2011 debt-ceiling crisis, both Fitch and Moody's now say they are eyeing a possible downgrade as this year's negotiations unfold between Republican politicians and the Biden White House.
"It all should be great for gold," says Shiels, "but appetite just isn't here at the moment."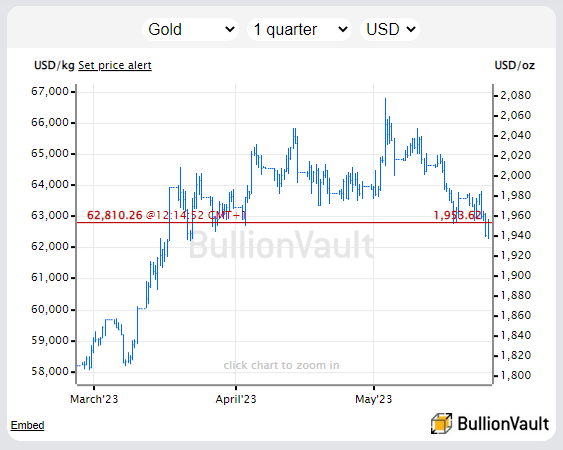 With US tech stocks flying on Thursday, led by a strong earnings report from software firm Nvidia (Nasdaq: NVDA) sending its shares 25% higher towards a $1 trillion market cap, Asian and European bourses also continued to rebound Friday morning.
Together, that cut the MSCI World Index's loss for the week to 1.5%, still on track for its lowest Friday finish since mid-April.
Betting that the Fed will raise US interest rates yet again at its mid-June meeting eased back overnight, putting the market-priced odds a little above 1-in-3 against a more likely 'pause' at the current ceiling of 5.25% – the highest overnight US interest rate since mid-2007, eve of the global financial crisis.
But betting on the Fed cutting rates by year-end retreated once more, putting
the consensus forecast for December's Fed meeting
at 4.96%, suggesting only 1 small reduction from the US central bank's current stance according to the CME derivatives exchange's FedWatch took.
That contrasts with a market consensus of less than 3.90% for end-2023 Fed rates at the depths of March's US regional banking crisis.
With newly-mined gold from Russia – the metal's No.2 producer nation – now
diverted away from global trading center
London to the giant
consumer markets of China
as well as India, Turkey and the UAE amid US-EU-UK sanctions, gold priced in local currencies across Asia and the Middle East fell less steeply this week than London quotes in Dollar terms.
That saw the Shanghai premium rise to $11 per ounce over London on Friday, near the highest incentive for new bullion imports into China since end-March, while India's domestic Rupee price flipped from last week's $5 discount to a $2 premium after accounting for import duty and sales tax.
"It's the season of discounts and promotions," says
Gulfnews
in Dubai, adding that "UAE's gold and
jewellery retailers are joining in
" with cuts to making charges amid the retail sector's wider 3-day "megasale" this weekend.