Silver Prices Lag Gold's Gains as WHO Weighs Coronavirus 'Emergency', BoE and US Fed Keep Low Rates Unchanged
Thursday, 1/30/2020 14:05
GOLD and SILVER PRICES rose in London's bullion market on Thursday, trading at $1579 and $17.85 per ounce respectively as the World Health Organization met to decide whether China's outbreak of coronavirus marks a global emergency and the Bank of England followed the US Federal Reserve in keeping its low-rate monetary policy unchanged yet again.
Two of London's 9 policymakers voted to cut Sterling interest rates ahead of tomorrow's UK exit from the European Union, but the committee was unanimous in
keeping quantitative-easing bond purchases
on hold at £445 billion ($583bn).
Also reporting a "moderate" pace of economic growth
plus "muted" inflation
, the US Fed yesterday held its key rate unchanged at 1.75% after cutting 3 times last year.
Fed chair Jerome Powell
denied to reporters
that the US central bank has restarted QE, but said that its heavy purchases of short-term government debt since September will continue.
Inflation in world No.1 gold-consumer nation China was already running at 7-year highs at end-2019 on a shortage of pork caused by swine fever, but vegetable prices on the Shouguang index have
now leapt to 4-year highs
amid the business and transport shutdowns imposed by Beijing to stem the spread of coronavirus, now
claiming over 130 dead
, with another 6,000 people infected across 16 countries worldwide
Silver prices
today showed a 45-cent rally from Wednesday's 5-week lows, while gold moved almost $10 from last weekend's finish – the highest Friday close since March 2013.
Together that trimmed the
Gold/Silver Ratio
of the two precious metals' prices relative to each other down towards 88.
With the ratio of gold's price per ounce versus the more industrially-useful silver averaging 56 across the last half-century, a ratio of 80 or more marked a new all-time high when first reached just before the early 1990s' recession, and was seen on just 26 trading days between 1995 and 2016.
Barring a 1-day spike lower in September, the Gold/Silver Ratio has now held above 80 for 369 trading days in a row, the longest stretch since the record 706-session run of 1990-1993.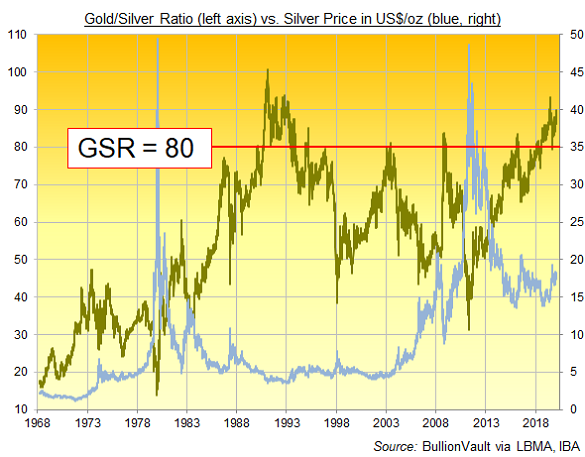 Both the SPDR Gold Trust (NYSEArca: GLD) and competitor gold ETF the iShares product (NYSEArca: IAU) expanded as investors bought more shares on Wednesday, reaching 3-month and new all-time high sizes respectively.
Silver's largest bullion-backed exchange traded fund, the iShares Silver Trust (NYSEArca: SLV), expanded by 0.5% on Wednesday as investment demand grew the number of shares in issue.
But while the 2 largest US-listed
gold ETFs
have expanded by 1.6% so far in 2020 – taking the GLD gold ETF to its largest in 3 months and the iShares IAU product to a new record size – the SLV silver ETF has shrunk by 0.2% overall since New Year's Eve.
"If the virus [outbreak] were to be contained, then we might see some pullback in [gold] ETF holdings," Bloomberg quotes economist John Sharma at National Australia Bank, "but certainly no collapse."
In contrast in the industrial sector, "Further increases in silver prices could hasten the pace of thrifting," says a note from independent analysts Metals Focus, reporting a drop in key user India's 2019 electrial and electronics demand for the gray metal.
"Overall though, we expect demand to improve this year as [India's] economic growth has bottomed out..[with] tentative signs of a recovery, especially in automobiles and consumer durables."
Looking ahead to No.2 gold-consumer nation India's annual government budget announcement on Saturday, "I am
expecting a significant reduction
in import duty on gold," the Economic Times quotes one jeweller in Pune, despite the government instead raising import costs unexpectedly to 12.5% in last year's finance plan.
Gold
smuggling into India rose by one-quarter
in 2019, mining-industry group the World Gold Council estimated on Thursday, reporting a worldwide drop in all forms of gold demand outside ETF investment.
Weeks of
mass protests against pension reforms
in France are meantime culminating today in a meeting between trades union leaders and government officials including Prime Minister Édouard Philippe.
Turkey's "volatile currency and economic outlook" means global banking giant HSBC is considering pulling out of the No.5 gold consumer nation, according to sources quoted by Reuters, as part of wider cost-cutting plans.