Gold Prices Rise, Crude Oil Sinks, Volatility Expected as US Election 2020 Looms
Monday, 11/02/2020 14:39
GOLD PRICES rose Monday lunchtime in London as investors, traders, pundits and brokers predicted strong volatility across all financial markets ahead of tomorrow's US election, with crude oil dropping to 5-month lows as the Dollar rises, writes Atsuko Whitehouse at BullionVault.
Spot gold prices gained 0.6% to $1890 per ounce this morning after declining 1.2% for last week to end the month of October down 0.3% at London's daily benchmarking auction.
That marked the 3rd consecutive month-end drop from July's new record finish of $1964, with today's spot gold price coming 9.0% below 6 August's intraday high of $2075.
"The possibility of post-election turmoil and a contested outcome represents a significant risk in our view, and one that could prove quite gold-positive in the most extreme scenarios," says Canadian brokerage RBC Capital Markets.
Gold's unique properties as an asset "could make it appealing if this type of uncertainty pervades markets."
Oil prices meantime tumbled to a five-month low amid news of a surge in Libyan crude production, while widening coronavirus lockdowns in Europe look set to weaken fuel demand.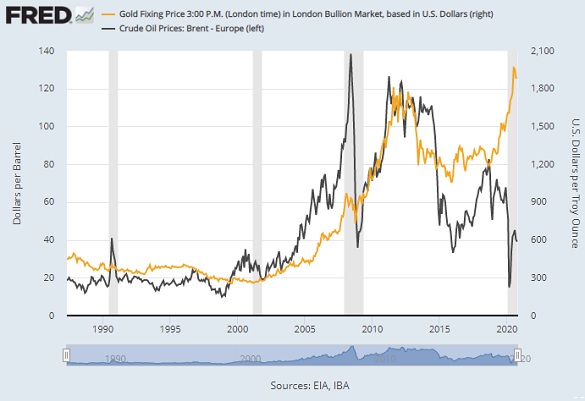 Deaths from Covid-19 have now topped 1.2 million worldwide after the most fatalities since April were reported last week, while the US saw 78,000 new cases confirmed on Sunday after recording a new 1-day record of 97,000 on Friday.
European benchmark Brent crude oil today dropped as much as 4.6% to bottom at $35.74 a barrel.
US West Texas Intermediate fell harder, down as much as 6% at $33.64 per barrel before also paring its losses to trade $1 above that low.
Silver – primarily an industrial metal – rose alongside gold prices, gaining 1.8% to $24.06 per ounce, while platinum, which finds nearly 40% of its end-use coming from automakers, also gained 1.3% to $859 per ounce.
Looking at gold, "We are seeing something of a resurgence in safe-haven buying," said Harshal Barot, senior research consultant for South Asia at Metals Focus, pointing to last week's gold price rally alongside the Dollar rising on the FX market.
The Dollar Index – a measure of the US currency's value versus its major peers – today extended last week's 1-month highs while the yield offered to buyers of 10-year Treasury bonds declined from Friday's 4-month high.
Besides the White House, Senate and House elections this week, the US will also see central bank the Federal Reserve announce its latest monetary policy on Thursday, with October's non-farm payrolls data due Friday.
Live gold prices in UK Pounds
climbed 1.1% to £1466 per ounce Monday morning as Sterling retreated on the currency market after a government U-turn confirmed over the weekend that England is to join France, Germany and Wales in a more restrictive lockdown, starting Thursday, overshadowing rumors of possible progress in Brexit trade-deal talks with the EU.
European gold prices also gained 0.6% to €1622 per ounce while European stocks started November's trading on a positive note after logging its worst weekly sell-off since mid-June.
New data from world No.2 economy and No.1 gold consumer China meantime said factory activity expanded at its fastest pace in a decade last month.
Gold prices in China recovered today above ¥400 per gram, helping cut the discount to London quotes to $24 per troy ounce, the smallest in more than 3 months.