Gold Prices Rise vs. Falling Dollar as Covid Stimulus and 'Fractious Policy' Hit Stocks
Wednesday, 10/21/2020 14:07
GOLD PRICES rose against a falling US Dollar in London trade Wednesday, reaching 1-week highs above $1920 per ounce as global stock markets fell amid fresh Covid-19 lockdowns and restrictions across Europe, plus continued rumors and counter-rumors over US politicians agreeing a new stimulus package ahead of 3 November's White House.
"There appears no definite clarity which shorter-term traders can price into the precious metals market," says Singapore brokerage Phillip Futures.
"Long term investors have shifted focused on what the November election outcome means for stimulus later, with a Democrat victory seen boosting
gold's sentiment
with a very large stimulus package."
While Democrat Speaker of the House Nancy Pelosi reportedly "made progress" in stimulus talks overnight with Treasury Secretary Steve Mnuchin, Republican Senate majority leader Mitch McConnell advised President Donald Trump against agreeing to any pre-election deal, says the New York Times.
With the UK government meantime over-ruling the local mayor of major northern city Manchester yesterday, and imposing its highest "tier 3" anti-Covid restrictions without agreeing a financial aid package, the
UK gold price
in Pounds per ounce today fell as longer-term interest rates rose, falling back to unchanged for the week so far at £1470.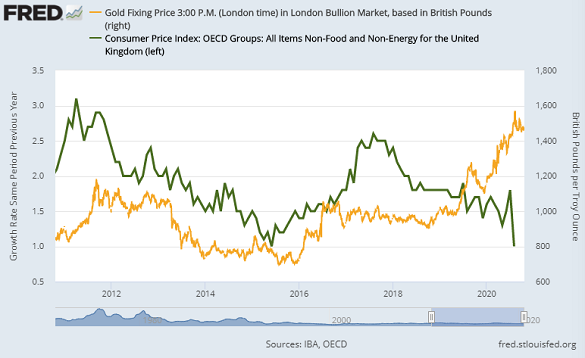 Other government bond prices also fell with equities – as did crude oil prices – pushing up 10-year interest rates most notably for Greece (up to 2-week highs at 0.91%), the UK (1-week highs at 0.23%) and the US (3.5-month highs at 0.82%).
Negative yields meantime continued for debt from Germany, France, the Netherlands and Switzerland, but Japan's 10-year
borrowing rates
rose to 2-week highs near 0.03% after turning positive this March for the first time in 14 months.
Euro gold edged higher to €1621, but also showed no change for the week to date while Dollar prices rose $25 from Sunday to $1924 per ounce.
"The reason is the very aggressive, extremely stimulating monetary and fiscal policies announced by the US Fed and the ECB in response to this pandemic."