Gold Prices Slip as US Stimulus Deadline Arrives, EU's New Joint Debts 'Worry' the Bundesbank, DoJ Takes Google to Court
Tuesday, 10/20/2020 14:53
GOLD PRICES in London's wholesale market held flat on Tuesday against all major currencies except the Euro and Swiss Franc, falling to 1-week lows for Eurozone investors as the European Union launched its push to become one of Europe's biggest borrowers and Washington's self-imposed "deadline" for a Covid stimulus deal arrived ahead of next month's White House elections.
Trading at $1905 for US Dollar investors – a 9-year high when reached in late-July, 2 weeks before the current all-time top of $2075 – the
UK gold price in Pounds per ounce
also held unchanged for the week so far at £1470.
Euro gold prices in contrast slipped near 1-week lows at €1610 as the single currency rose further on the FX market after Jens Weidmann, president of the Deutsche Bundesbank and a member of the European Central Bank's policy committee, called the European Union's new Covid jobs-support program "worrying" on the day that it launched. measure.
Despite today's auction of €17 billion in EU debt ($20bn) attracting the highest demand for any bond sale ever according to Reuters, with investors bidding for 14 times as much, "[This] large-scale borrowing at the EU level...
should remain a one-off crisis measure
," the head of Buba went on.
With Ireland and Wales
going back into full lockdowns
as Europe faces a fast-growing second wave of the virus, longer-term interest rates ticked higher worldwide as gold prices slipped against the Euro and erased earlier gains for US and UK investors.
Ten-year German Bund yields edged up to -0.61% per annum – a record low when first reached in August 2019, six months before the novel coronavirus hit Europe – locking in a worse than 6% total loss for new buyers who hold to redemption.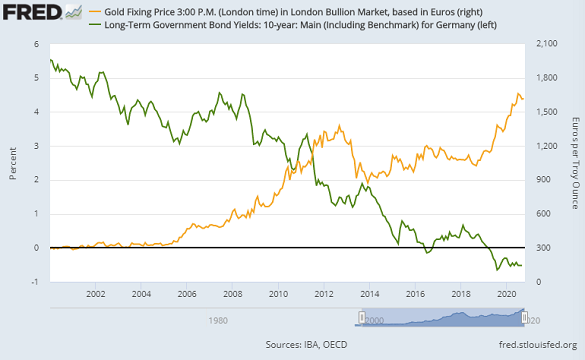 "The temporary Support to mitigate Unemployment Risks in an Emergency (SURE) is available for Member States that need to mobilise significant financial means to fight the negative economic and social consequences of the coronavirus outbreak on their territory,"
says the EU
on its website, offering loans to member states to meet job support costs.
"Tuesday's sale," says Reuters, "is the first stage of the EU's ambitious plan to increase its debt pile 15-fold in less than a decade to fund its two coronavirus support programmes for member states, which brings [its 27 member nations] closer to debt mutualisation than ever before."
World stock markets meantime struggled to shake off yesterday's sharp fall on Wall Street as US House Speaker Nancy Pelosi repeated today's deadline for agreeing a Covid stimulus with Republican opponents before her Democrat candidate Joe Biden challenges President Trump for the White House on 3 November.
The 2 sides have "
continued to narrow their differences
," said a spokesman for Pelosi, who apparently "continues to hope that, by the end of the day Tuesday, we will have clarity on whether we will be able to pass a bill before the election."
US stimulus is "certainly the elephant in the room today" says a note from chief analyst Rhona O'Connell at brokerage StoneX, leaving precious metals as a group "still in persistently narrow ranges with gold oscillating between $1,900 and $1,920, although silver is trying to break higher.
"Platinum is drifting lower and palladium continues to edge better; tellingly, the platinum sponge premium [the gap between prices for bullion and for industrial-ready granules] is declining, potentially suggesting some recent industrial bargain hunting which may now be tailing off."
Having already lost over 10% from start-September's new record high, shares in Alphabet Inc – Google's parent – ticked higher ahead of Tueaday's Wall Street opening despite the lawsuit potentially threatening $1 trillion in fines and a break-up of the company.
The European Union has already challenged Google with "anti-trust" actions, fining it a total of €6.7bn, most of which the US tech giant continues to dispute.