Gold Prices Flat as US Fed 'Risks Losing Control of Interest Rates' Amid 'Glut' of Repo Safe Havens
Wednesday, 9/18/2019 13:53
GOLD PRICES again held flat with major currencies on Wednesday in London, sticking close to $1500 per ounce after the US Federal Reserve intervened in the interbank money market for a second day running ahead of today's key decision on Dollar interest rates.
Thursday will then bring monetary policy decisions from Japan, Taiwan, Indonesia, South Africa, Switzerland, Norway and the United Kingdom, plus the
re-start of "targeted longer-term" lending
to Eurozone banks by the European Central Bank.
Asian stock markets slipped Wednesday but European equities edged higher ahead of the US Fed decision.
Crude oil meantime retreated once more from Monday's historic spike, while US President Trump defended his 'caution' over attacking in retaliation for the weekend's drone strikes on Saudi oil facilities.
The US Dollar held flat on the currency markets Wednesday as the New York Fed this morning
offered $75 billion in 1-day loans
after lending $53bn on Tuesday, its "first such rescue operation in a decade" for the money markets, according to CNN.
The giant "repo" market is where corporations and financial institutions can lend and borrow short-term cash against government bills and bonds, agreeing that the collateral will be repurchased in future.
Costs to borrow cash have leapt so far this week, rising the fastest in more than 3 years in what Bloomberg calls a sign that the US central bank "is losing control of interest rates."
"The combination of a glut of safe assets [ie, government bonds] in the market, plus a Fed still intent on keeping monetary policy tight, has been feeding through to repo markets in the form of volatility," reckons the
FT's Alphaville blog
, calling it a "Dollar crunch".
Other theories, besides the Saudi-attack
oil spike reviving inflation fears
, include US companies withdrawing funds from the money markets ready to meet the regular autumn tax payment deadlines, while at the same time the US Treasury just issued "a raft of new bonds, which
also sopped up cash
," says the
New York Times
.
With the actual cost of borrowing jumping in the marketplace, betting on the Fed's decision has suddenly switched this week to put the odds of a cut at 50:50, down from a 100% certainty just 2 weeks ago.
"The funding markets are clearly stressed," agree several capital-markets traders quoted by news-wires today.
Rising by 0.11% on Monday, the Effective Fed Funds rate made its sharpest 1-day move since April 2016 outside of Fed rate-hike decisions.
Reaching 2.25%, it also touched the current upper limit for the central bank's official Fed Funds target rate since June 2009, shortly after it introduced an upper-lower band for its key policy rate.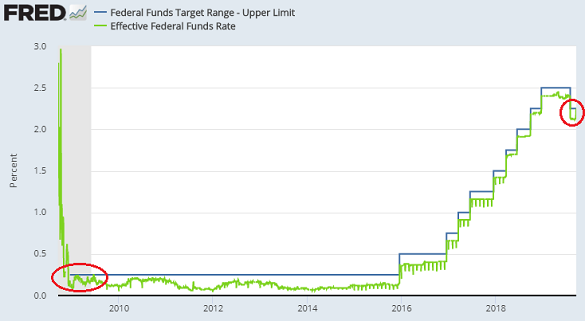 "Changes in the IOER rate are supposed to do the actual, heavy lifting of influencing other market rates," wrote Cato Institute think-tank director and monetary economist
George Selgin in July
, pointing to the Interest on Excess Reserves, controlled and paid directly by the Fed since 2008 to commercial banks holding reserves larger than their required level.
Yet the actual market rate for borrowing overnight funds has now been greater than the Fed's IOER since 6 weeks before the central bank trimmed that interest rate without moving the Fed Funds target in April.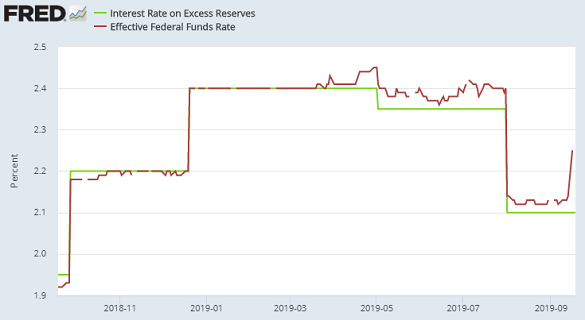 "How to fix an apparently broken Fed?" Selgin asked in July.
"[One] option is for the Fed to suspend its balance-sheet unwind at once, instead of waiting until October, and if needed to reverse course by resorting to enough Quantitative Easing to keep overnight rates no higher than the IOER rate."
Data from the Fed says that its
total assets
ended last Wednesday larger than where they stood 3 weeks earlier for the first time since March 2018.
Despite President Trump's
repeated demands
for faster Fed rate cuts, speculative betting on today's rate decision has however switched dramatically on this week's volatilty in market rates, with the likelihood of "no change" today sinking below 50%.
The lowest since end-May, that is down from a 100% certainty just 2 weeks ago.
Israel's election today showed
a dead-heat between
the moderate Blue and White Party against the right-wing Likud Party of current Prime Minister Benjamin Netanyahu.