Gold Rises as Dollar Falls, Stocks Climb Amid Trump's Covid-19 'Cure', Real Rates Likely Depressed 'For Decades, Not Years'
Monday, 8/24/2020 13:55
GOLD PRICES gained this Monday lunch time as the dollar declined while global stocks rallied as the US Food and Drug Administration (FDA) approved a therapeutic treatment for Covid-19 patients and central bank speculation rose ahead of the Jackson Hole Symposium writes Atsuko Whitehouse at BullionVault.
Spot Gold rose by 0.6% to $1952 per ounce after losing 3.7% during the last two sessions from last Tuesday's peak of $2015.
The dollar index, meanwhile, declined against a basket of major currencies after climbing to a more than one-week high in the previous session.
The yield on the benchmark 10-year Treasury note edged lower at 0.64%, while the yield on the 30-year Treasury bond steadied to 1.35%. Yields move inversely to prices.
US Treasury bond yields have declined 1.106% since lockdown was imposed on Wuhan, China, where the virus originated from, on 23rd January, while gold prices gained 23.8% during this period.
"Gold tends to respond positively to negative real interest rates, especially at the long end of the yield curve and right now, 30-year US real rates are very low,"
says
Charles Crowson, Portfolio Manager RWC Partners.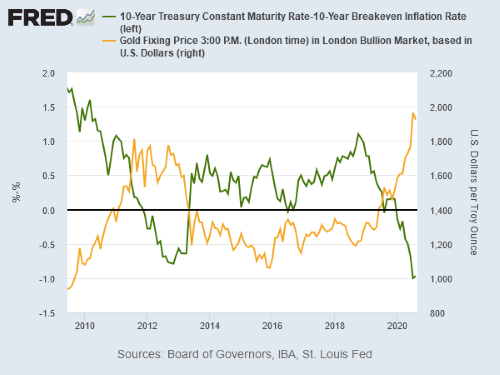 "In fact, this accommodative, low-yield environment may prove historically persistent over the long term," says Stephane Monier, Chief Investment Officer at Lombard Odier Private Bank.
According to studies done by The Bank of England and International Monetary Fund about the shock of pandemics on economies, Monier continued that "Working with evidence starting in the 14th century, show that these events tend to depress real interest rates not for years but for decades."
While there is no major economic report due for release this Monday, investors are now waiting for US Federal Reserve Chairman Jerome Powell's speech at the Jackson Hole Symposium this coming Thursday for any hints about how aggressively the central bank will try to manage the long-term recovery from the coronavirus pandemic.
The pandemic passed two milestones over the weekend as total deaths and cases reported worldwide exceeded 800,000 and 23 million. Although US infections showed signs of stabilization, concerns are growing in Europe and parts of Asia as holidaymakers return home to big cities and teachers and pupils prepare for the start of the school year after months of disruption.
The US drug regulator, FDA on Sunday approved the use of plasma from people who have recovered from Covid-19 to treat other coronavirus patients in hospital, while President Donald Trump's administration is considering fast tracking an experimental coronavirus vaccine developed in the UK for use stateside ahead of the nation's upcoming presidential election, according to a
Financial Times
report
.
European stocks climbed to a one-week high, following the trend set by Asian markets this morning amid a thaw in US and China relations.
White House officials are said to have reassured American businesses that a ban on the WeChat app will not be as broad as once feared, which helped share prices of Tencent Holdings Ltd to jump the most in a month.
MSCI World Index of global stocks has recovered to -1% since Wuhan lockdown on 23rd January as the S&P 500 index struck an all-time high last week, having rallied more than 50% from a crash in global markets sparked by coronavirus fears.
Gold prices for European investors edged higher by 0.2% to €1648 per ounce as the Euro gained against the greenback in the FX market after breaking a 9-week streak last session.
UK gold prices meanwhile gained by 0.3% to £1486 per ounce amid pound sterling underperformed after EU chief negotiator Michel Barnier said a Brexit deal was "unlikely" last Friday, raising the prospect of a "hard Brexit" at the end of this year
Gold prices at the Shanghai Gold Exchange in China continued to show a historic discount to London, increasing to $77 per ounce on Monday after wholesale bullion in the metal's No.1 consumer market deepened the weekly average to the biggest record at $75 last week.
"In contrast to sharply declined US and European real rates, China's real rate has risen in recent months, increasing Chinese investors' opportunity cost to hold gold," says Ray Jia, Research Manager at the
World Gold Council
.
Jia explained the background as China's economy has rebounded and the Chinese central bank has become more prudent in supporting.
In other precious metal news, silver moved up by 0.7% at $26.98 per ounce, while platinum gained 2.1% to $939 per ounce, which kept the discount to gold over $1000.