Gold ETF Profit-Taking 'Stifles Uptrend' as Bond Yields Rise Amid US-China Trade and Tik-Tok Tensions
Monday, 8/17/2020 14:35
GOLD PRICES rose Monday as a scheduled review of the US-China trade deal was delayed following President Trump's order that TikTok's Chinese owner to divest from the social-media app's US business, writes Atsuko Whitehouse at BullionVault.
Trump issued an executive order on Friday telling China's ByteDance to
sell or spin off
its US version of TikTok within 90 days, citing only what he called "credible evidence" that ByteDance "might take action that threatens to impair the national security of the United States."
After dropping 4.5% last week from new all-time record highs, spot gold prices rose to $1956 per ounce Monday as the Dollar Index – a measure of the US currency's value versus its major peers – slipped for the 4th consecutive session.
US interest rates also slipped back, reducing the opportunity cost of owning non-yielding gold, as the yield on benchmark 10-year Treasury bonds fell below 0.70% from last Thursday's 8-week high of 0.71%.
That peak came as investor demand for an auction of $26 billion in new 30-year debt came in
well below expectations
, forcing the Treasury to pay more in annual interest on its new borrowing.
Despite that rise in US bond yields working to "stifle gold's upward trajectory...the fundamentals in gold look sound," reckons National Australia Bank economist John Sharma, quoted by Reuters and also pointing to profit-taking by existing investors for last week's price drop.
Friday saw net demand for gold-backed ETF shares hold negative for a 6th session straight, according to Bloomberg data, with the giant SPDR Gold Trust (NYSEArca: GLD) shrinking its total shares in issue by 1.1% .
Needing 1,248 tonnes of bullion to back its shares, that saw the GLD end 20 consecutive weeks of growth.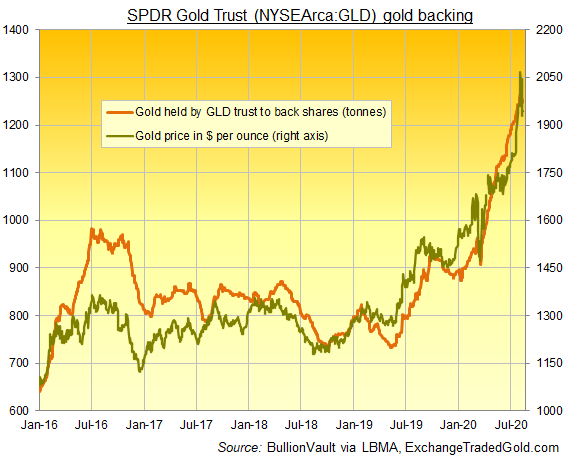 Month-to-date inflows into gold-backed ETFs still remain positive however, according to the mining industry's World Gold Council,
albeit by fewer than 7 tonnes
.
Regulatory filings show that while hedge fund
Bridgewater bought both GLD and IAU
shares in the 3 months to end-June, legendary investor Warren Buffett's Berkshire Hathaway Inc. (NYSE: BRK.A)
acquired stock in Barrick Gold
Corp. (NYSE: GOLD) in the second quarter, news which sent shares in the world's second-largest miner higher from near 1-month lows.
Buffett has repeatedly mocked gold investing in the past, saying that the yellow metal is not productive like a farm or a company.
Barrick was Berkshire's only new purchase last quarter, when BRK cut its holdings in major US banks.
With the US stock market poised to test this year's new all-time highs again on Monday, European stock markets advanced after Chinese equities rose on $100bn of liquidity injected by the People's Bank.
Silver prices
climbed nearly 3% to $27.23 per ounce, halving last week's drop, while platinum also rose, up 1.7% to $961 per ounce and pushing its discount to gold back down below $1000 per ounce.
Oil prices meantime held flat ahead of this week's OPEC+ meeting to discuss output quotas for the producer-nation cartel.