Gold Prices 'Set to Extend Uptrend' But 2020 Scrap Growing, Mine Output -5%, Demand -20%
Thursday, 6/25/2020 14:08
GOLD PRICES rallied from $20 below yesterday's new 8-year high near $1780 per ounce in US Dollar terms in Asian and London trade on Thursday, but edged higher against other major currencies as world stock markets extended Wednesday's 2.6% drop in US equities.
Following the slight profit-taking seen on this week's earlier gains, the iShares gold ETF (NYSEArca: IAU) expanded by 0.5% yesterday, needing a new record size needing 452.5 tonnes of backing.
Larger competitor
gold ETF
the SPDR trust fund product (NYSEArca: GLD) also grew Wednesday as prices slipped back, swelling 0.7% to need 1,176 tonnes of backing – equal to one-third of last year's total global mine output – at the largest size since 11th April 2013.
Among household stockpiles meantime, levels of gold jewelry sold to raise cash haven't risen as sharply as
"some were expecting"
says Neil Meader, analyst at Metals Focus, launching the specialist consultancy's new
Gold Focus 2020
in a webinar.
"Constraints" on recycling flows from Asia include shop closures and a lack of airfreight amid the Covid Crisis, he explained.
"In the Middle East people are [also] reluctant to sell safe-haven assets in times of crisis, and many have seen currency busts recently – such as Egypt – so a lot has already come out.
But in good part, the weak response of scrap gold flows "is down to depleted stocks in the West," Meader said, after consumers failed to rebuild their jewelry holdings after the cash-4-gold boom of last decade's global financial crisis.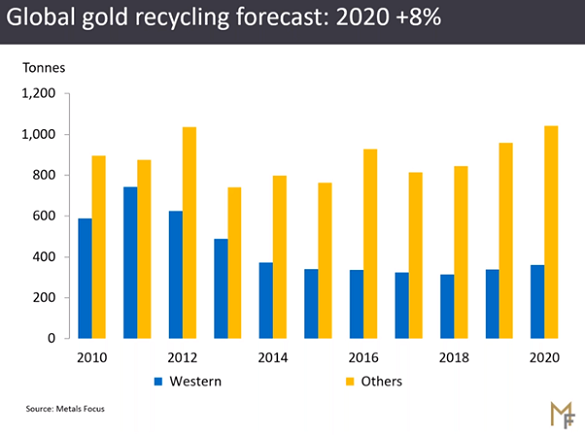 "High prices mean scrap might help compensate for a shortage of supply from mining" – forecast by Metals Focus to drop around 5% in 2020 after slipped 0.8% last year from 2018's fresh all-time record high – said Frederic Panizzutti, managing director in Dubai for Swiss refining and finance group MKS Pamp, and a guest panellist on yesterday's Metals Focus launch.
South Africa's largest mining firm, Harmony Gold (JSE: HAR) today raised US$200m from a sale of new shares to help finance its purchase of the last local operations of competitor AngloGold Ashanti (JSE: ANG).
On the other side of the market however, gross demand across all forms of gold is set to plunge by 20% in 2020, Meader went on, led by a plunge in central-bank and household jewelry buying – both set to be deterred by this year's sharply higher gold prices.
Gold prices in No.2 consumer nation India's capital Delhi today
crossed above INR 50,000 per 10 grams
for the first time in history, driven by a falling Rupee, the surging global price, plus 12.5% import duty and additional retail sales taxes.
While India's jewelry demand continues to suffer from shop closures and delayed weddings amid the Covid Crisis, it's also seeing heavy smuggling to sidestep those levies, with airport officials in the south-western state of Kerala
discovering 6 cases in the last 48 hours alone
, "smuggled in date seeds, bra straps, shoe soles [and] sausages" according to
Gulf News
.
Over the fiscal year ending April 2020, "Kerala tops the country in terms of gold seizures," local customs officials say, with over half-a-tonne of metal caught at the state's 4 airports.
"We are hit badly due to Covid-19," says Sumit Kumar, Customs Commissioner in charge of the Kerala and Lakshadweep region, to the Hindustan Times, "but we will not lower our guard come what may."
Indian gold prices
could reach INR 65,000-68,000
per 10 grams over the next 18-24 months, reckons Kishore Narne at Motilal Oswal Financial Services.
"The trend continues to be positive for gold," the Economic Times quote Anuj Gupta at Angel Broking.
"Geopolitical tensions and [analysts] cutting global economic forecasts will keep the prices in an uptrend."