Gold Prices Slip Despite India-China Conflict as US Fed Denies 'Yield Curve Control', UK Plans Extra £100Bn of QE
Wednesday, 6/17/2020 14:01
GOLD PRICES slipped over $10 per ounce in London trade Wednesday, retreating as world stock markets rose and government bond prices fell despite the worsening 'second wave' of coronavirus in the United States and a deadly confrontation between troops from China and India over a disputed border in the Western Himalayas.
Gold fell back to $1718 – a new 7.5-year high when first reached in April – as Beijing and New Delhi accused each other of starting the firefight on the Galwan Valley frontier.
Indian newspapers
called for "steely resolve"
and retaliation over the killing of 20 soldiers, while China's state media didn't give any casualty numbers.
Silver also
"witnessed profit booking"
overnight says the
Economic Times of India
, dropping 14 cents from $17.50 before regaining that level in London trade "as coronavirus cases mounted and tensions escalated" between the two nuclear-armed Asian giants.
With major government bond prices falling, longer-term interest rates edged higher after US Federal Reserve chief Jerome Powell told lawmakers on Tuesday that the world's most powerful central bank "
has made absolutely no decision yet
to go forward with yield curve control".
Instead of trading only to keep overnight interest rates on target, "Some central banks – including the Reserve Bank of Australia – are now
encroaching on those rates previously left to the market
," explains James Culham, director of institutional portfolio management at financial services group ANZ.
"These initiatives are not new...During World War II, the US Federal Reserve and the Bank of England fixed interest rates on both short-term and long-term government debt. The purpose was to give their government fiscal space for the enormous spending needed to sustain the war effort."
The Bank of Japan began yield-curve control in September 2016, targeting 0% rates on the Tokyo's 10-year government debt by potentially unlimited
quantitative easing
money creation for buying the bonds to push up their price and so reduce the yield offered to new buyers.
"The concept of using yield curve control at the Fed is at an early stage," Powell went on in Tuesday's semi-annual monetary policy testimony to the Senate Banking Committee.
The UK's Bank of England – which next announces policy tomorrow after slashing its key interest rate to a new historic low of 0.1% during the Covid Crisis –
will try yield curve control before negative short-term interest rates
, reckons analysis from major UK lender Barclays, but only after the central bank first tries more QE, more direct loans to business borrowers and easier lending rules.
Since 10-year Gilt yields fell below the 'core' pace of inflation in May 2016,
the UK gold price in Pounds per ounce
has now risen by 65%, trading at £1370 this lunchtime – a new all-time high when first reached in March, but £90 below late-May's fresh top.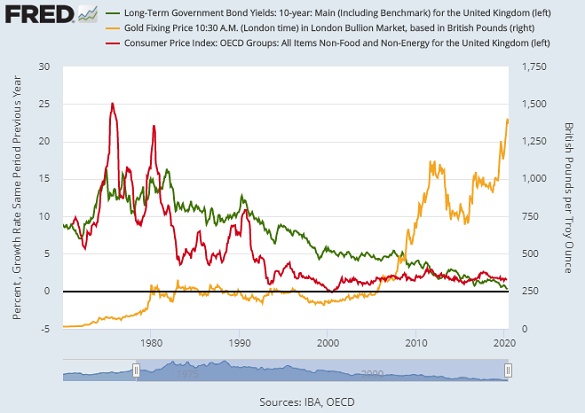 "What is the point of the Bank of England unleashing extra stimulus?" asks former BoE policy-maker Andrew Sentance, commenting on
rumors in the Financial Times
that the UK central bank will announce a further £100bn ($125bn) of QE on Thursday.
Starting at £200bn in 2009's global financial crisis,
the UK's total QE
rose to £435bn in the aftermath of 2016's shock Brexit referendum result, before jumping again to £645bn amid the Covid Crisis stock-market crash this March.
Euro gold prices also held lower for the week so far on Wednesday, trading at €1530 per ounce.