Gold Prices Tumble as Macron Calls for IMF Sales, 'Overly-Long' Hedge Funds Cut Back But ETFs Grow
Monday, 6/14/2021 14:18
GOLD PRICES extended a decline to over 3-week lows on Monday, falling as the US Dollar held at 1-month high on the currency market while the G7 group of Western nations ended its summit in Cornwall, England vowing to counter China's global influence, writes Atsuko Whitehouse at BullionVault.
Also discussing debt relief and investment in Africa, the G7 Summit saw France's President Emmanuel Macron call for the International Monetary Fund to "
sell some of our [joint] gold
reserves...because [they] have risen in value because of the [Covid] crisis.
"We should give this excess profit to the poorest countries, particularly in Africa, that need it today," Macron went on, echoing calls
made during the global financial crisis
of a decade ago which resulted in sales to India's central bank.
"Not in 20 or 30 years. Today."
New data meantime say speculators cut their bullish betting on gold for the first time in almost 2 months last week, ahead of the US Federal Reserve's decision on interest rates and possibly
"talking about talking about starting to taper" QE
money creation and bond purchases this Wednesday.
Spot gold prices dropped as much as 2.1% to hit $1854 per ounce Monday lunch time in London, the weakest since 19 May.
Prices for silver, primarily an industrial metal, fell only 0.8% in contrast to $27.69, albeit reversing last week's gain.
Latest data show that hedge funds and other leveraged speculators in Comex gold futures and options in fact cut their bullish betting for the first time in eight weeks over the 7 days to last Tuesday.
Despite also trimming their bearish bets as a group, that pushed the net long position of Managed Money traders down 2% from the biggest since the biggening of 2021.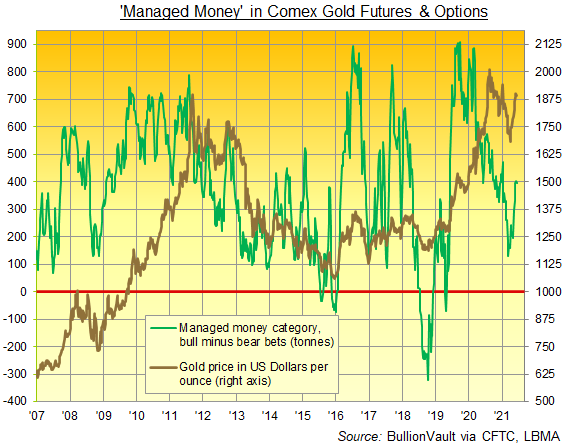 In contrast to Comex speculation,
gold-backed ETF trust funds
expanded last week, as the SPDR Gold Trust (NYSEArca: GLD) and the iShares gold ETF (NYSEArca: IAU) both saw small net investor inflows.
The GLD and IAU last month expanded the number of their shares in issue after 7 and 3 straight
months of net outflows
respectively.
Besides Macron's little-reported call to sell some IMF gold, the G7 nations took a strong stand in their joint statement regarding China's human rights practices as well as promising to donate more vaccine doses to poorer countries.
China's Embassy in London said today that Beijing is resolutely opposed to mentions of Xinjiang, Hong Kong and Taiwan which
it claims distort the facts
and expose the "sinister intentions of a few countries such as the United States".
Chinese markets were closed Monday in observance of the Dragon Boat Festival.
Gold prices for UK investors fell 1.2% to £1315 per ounce, nearly a 4-week low, even as the British Pound weakened against other major currencies as UK Prime Minister Johnson was set to announce a four-week delay to "Freedom Day", Britain's last stage of its Covid reopening.
Sterling was the 2nd worst performing G10 currency last week amid UK-EU political tensions over the UK's resistance to fully implementing the Northern Ireland protocol, a key part of the Brexit Withdrawal Agreement.
European gold prices also dropped as far as 1.3% to €1530 per ounce today, a 3-week low.
Ahead of the US Fed meeting that runs two days to Wednesday, 10-year US Treasury yields inched up to around 1.46% following to the biggest weekly slide in Washington's benchmark borrowing costs since December.